A number of worm farm projects have been initiated at Rhodes University - including one by 2012 Environmental Award winner Brett Sutherland - and have also expanded off campus. Worms - commonly known as Red Wigglers* - are used to breakdown biodegradable waste into a rich fertilizer both in a liquid (vermi-tea) and solid form.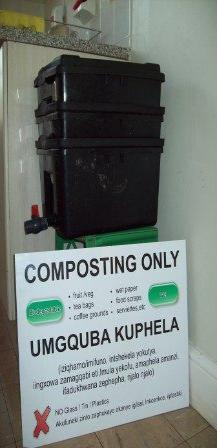 *Current DNA research at North-West University (2012): the only species identified in over 10 worm farms in 4 provinces in South Africa is Eisenia andrei (not Eisenia fetida, as originally assumed).
Biodegradable waste is available from a variety of sources, including dining halls, gardens and local vegetable selling outlets. The worm farms generally need to be fed weekly.
The table below provides guidelines regarding the types of biodegradable waste that the worms do and don't consume:
Worms consume
Worms don't consume

Breads & Grains
Fruits
Tea bags
Vegetables

Meat

Dairy Products
Oils
Acidic waste (pineapple, lemon, etc)
One of the aims of worm farming is to provide an environmentally sustainable alternative method of disposing of biodegradable waste, following the principles and visions set out in the triple bottom line approach.
Last Modified: Fri, 13 Dec 2019 07:26:38 SAST