Research Intensive Institution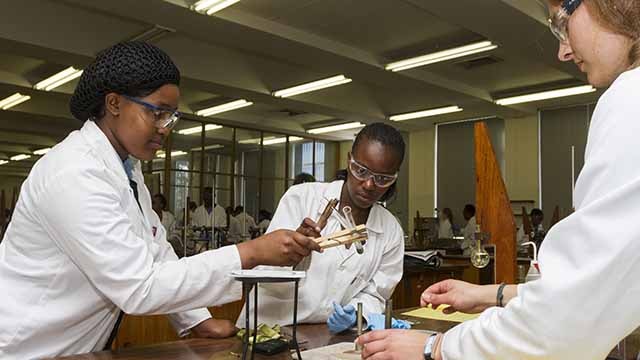 One of the foremost academic institutions in Africa, Rhodes is a research led university, and is one of the pre-eminent research institutions on the continent. Below are some of our research centres of excellence, ranging from nanotechnology, computer science, physics and electronics to biotechnology, water research, aquatic biodiversity and environmental science.
Nanotechnology: https://www.ru.ac.za/nanotechnology/
Lead by legendary scientist, Distinguished Professor Tebello Nyokong, the centre continues to break boundaries in all aspects of its field. Professor Nyokong was named alongside the likes of Bishop Desmond Tutu and Nelson Mandela, among the icons of South Africa for her pioneering research of photo-dynamic therapy as a cancer treatment. Earlier this year, 3 Nanotechnology students won awards at the 8th annual DST/Mintek Nanotechnology Innovation Centre (NIC) Workshop
Rhodes Business School: https://www.ru.ac.za/businessschool/
The Rhodes Business School MBA programme is ranked among the top 2% worldwide. In all its programme offerings the Rhodes Business School emphasises the balance which needs to be placed on the social, environmental, economic and ethical performance of organizations which is essential to their sustainable impact and performance. The Business School launched a TV channel late last year which offers lectures in Economics I, Commercial Law, Entrepreneurship and financial planning. The channel aims to be an incubator to promote social enterprise, entrepreneurship and empower local people with business management skills.
Journalism and Media Studies: https://www.ru.ac.za/jms/
One of the respected Journalism Schools in the country which continues to produce leaders in the Journalism and Media sphere. Over 40 years of existence, the Rhodes University School of Journalism and Media Studies (JMS) has become internationally renowned as Africa's preeminent media education institution and one of the finest in the world. A large part of this success is due to the holistic education JMS provides, combining media theory with hands-on application, imparting insight, knowledge and world-class skill sets. Highway Africa is one of the Journalism Schools' initiative which is dedicated to the development of African journalism and hosts the largest annual media conference on the continent.
Sol Plaatje Institute for Media Leadership: https://www.ru.ac.za/spi/
Biotechnology Innovation Centre: https://www.ru.ac.za/biotech/
Established in 2014, the Rhodes University Biotechnology Innovation Centre is the academic home of the discipline of Biotechnology, providing a trans-disciplinary research and learning environment in the field. Core discipline staff are supported by Research and Professional Associates representing academia, industry and the private sector. In addition to teaching and research, the Biotechnology Innovation Centre is engaged in biotechnology innovation and the public engagement and communication of the field.‌‌
Rhodes Biotechnology prototype, the best in the country - https://www.ru.ac.za/biotech/latestnews/rhodesbiotechnologyprototypethebestinthecountry.html
Allan Gray Centre for Leadership Ethics: https://www.ru.ac.za/agcle/
The centre's vital task is to imaginatively investigate and conceptualise what constitutes ethical and responsible leadership, to promote such leadership in diverse contexts, and to develop education and training programmes to foster such leadership.
Recently assisted the United Nations with developing learning module for the United Nations Office on Drugs and Crime (UNODC) under its Education for Justice (E4J) initiative - https://www.ru.ac.za/latestnews/ungetsahelpinghandfromrhodesuniversity.html
Centre for Biological Control: https://www.ru.ac.za/centreforbiologicalcontrol/
Public Service Accountability Monitor (PSAM): https://www.ru.ac.za/psam/
Zoology and Entomology: https://www.ru.ac.za/zoologyandentomology/
The Department of Zoology and Entomology is one of the oldest in the country, it occupies the newly built state of the art life sciences building. Prof Christopher McQuaid is Chair of Zoology and SARCHI Research Chair in Marine Biology
Environmental Science: https://www.ru.ac.za/environmentalscience/
Prof Charlie Shackleton's SARCHI Research Chair was recently renewed in Interdisciplinary Science in Land and Natural Resource Use for Sustainable Livelihoods. The department is dedicated to advancing inter- and trans-disciplinary science and learning aimed at understanding and managing complex human-environmental/social-ecological systems, with a focus on Africa. Environmental Science is one of the most productive departments in the university in terms of per capita research outputs.
Environmental Learning Research Centre (ELRC): https://www.ru.ac.za/elrc/
The ELRC is home to three Research Chairs in Global Change and Social Learning Systems, Environment & Sustainability Education and in Monitoring & Evaluation in a SETA environment. It increasingly works with local, national, regional and international partners to develop research-informed and research-led short and certificate courses; the ELRC enjoys collaborative partnerships with over 50 partners across the world. Linked to this, the research and teaching programme of the ELRC continues to increase in size and scope and enjoys a high demand for its courses and programmes. Through these partnerships, the centre aims to promote and encourage social scientific methodological innovation to produce knowledge of African education and social-ecological contexts.
Critical Studies in Sexualities & Reproduction (CSSR): https://www.ru.ac.za/criticalstudies/
Headed by South African Research Chair Initiative (SARChI) Chair of Critical Studies in Sexualities and Reproduction, Distinguished Professor Catriona Macleod. The CSSR research activities are a multi-disciplinary programme which includes sexualities, reproduction and unsupportable pregnancies/abortion. The research programme recently co-hosted a successfully sexual and reproduction conference.
Fine Art: https://www.ru.ac.za/fineart/
Rhodes Fine Art aims to empower students by developing their creative and intellectual potential through exposure to a rich and challenging range of contemporary teaching and learning experiences.
The Fine Art department recently launched the new gallery and SARChI Arts Lounge which aims to strengthen the role of Africa-based artists and scholars in this creation of knowledge through postgraduate training, a publishing support network, publishing workshops, a residency programme for artists and writers, and participation in a publishing consortium. https://www.ru.ac.za/fineart/latestnews/launchofnewgalleryandsarchiartslounge.html
Biotechnology Innovation Centre: https://www.ru.ac.za/biotech/
Biotechnology is an applied field of study, the outcome of the integration of the disciplines of biology, chemistry and engineering. Its applications within human and environmental health combined with the development and improvement of new products and processes hold direct benefits for socioeconomic development. The emergence of biotechnology as a key global player in innovation and technology transfer means that this field also incorporates the social sciences, business, economic and legal fields.
Rhodes Biotechnology prototype, the best in the country - https://www.ru.ac.za/biotech/latestnews/rhodesbiotechnologyprototypethebestinthecountry.html
Physics and Electronics: https://www.ru.ac.za/physicsandelectronics/
Under the directorship of Physics and Electronics Professor Justin Jonas, several Rhodes University students, staff and alumni are involved in the MeerKAT project, which officially launched on 13 July 2018 in the Northern Cape. MeerKAT is the precursor to the Square Kilometre Array (SKA) South Africa project, of which Prof Jonas is theChief Technologist
SARChI Mathematics Education Chair: https://www.ru.ac.za/mathsedchair/
The Chair has a fivefold objective which aims to examine how visualization processes can be harnessed and used in mathematics settings in Southern Africa. Engage in empirical research to understand how visualization processes can be used as pedagogical tools or strategies in the basic and higher education sectors. Also, engage in empirical research to understand how visualization processes can be used as an effective learning tool in education settings. Build Masters and PhD research capacity in mathematics education in Southern Africa and also build staffing capacity in the Chair project consistent with the transformation imperatives of South Africa.
Institute for Water Research: https://www.ru.ac.za/iwr/
The Institute for Water Research (IWR) is a multi-disciplinary group that incorporates the Unilever Centre for Environmental Water Quality (UCEWQ) and contributes to the understanding and sustainable management of water resources in southern Africa. These objectives are achieved through fundamental and applied research into the structure, function and components of natural water systems and the dissemination of research results. Consulting services are offered to solve specific problems through the application of research developments.
Please access the research gateway for more information on researcg at Rhodes
Last Modified :Thu, 06 Dec 2018 11:24:26 SAST