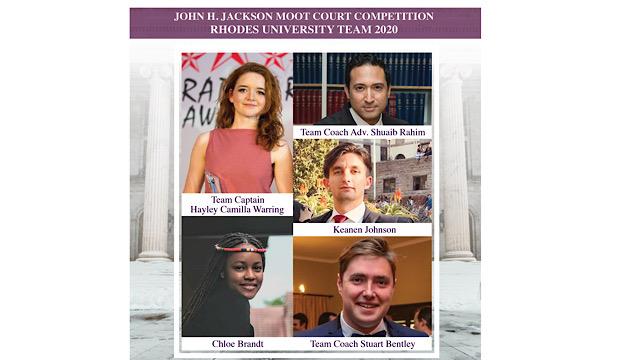 It is my pleasure to announce to the Rhodes University and Makhanda community about the hard work and dedication put in by the 2019/2020 John. H. Jackson Moot Court Competition team. The team applied via written and oral submissions in September of 2019 and were subsequently chosen. The competition was to be held in Nairobi Kenya, as the African Regional Round for this moot competition. The top four teams are then offered a place in the final round held in the WTO headquarters in Geneva Switzerland.
Accordingly, the members are Ms. Camilla Warring (team captain), Ms. Chloe Brandt and Mr. Keanen-Troy Johnson. This team was ably assisted by coaches Advocate Shuaib Rahim of the Law Faculty, and Mr. Stuart Bentley, a John Jackson moot competition alum (2018/2019). This is an international moot court competition based upon a fictional set of facts but incorporates real-world International Trade Law principles.
The 2019/2020 topic is, as all Jackson Moot topics are, based upon World Trade Organisation jurisprudence (body of law). This moot equips students with practical experience as to how international trade principles are applied in practice, and the procedure for member state dispute settlement. In short, this year's competition is based on the legality and regulatory framework of certain imports of marine goods through the use of a Free Trade Area, by one WTO member against another.
The competition required that by January 10, the Rhodes team had to submit their 20 page written argument to the competition organisers. This required the team to work through vacation consistently and remotely. This seemingly was good experience for what was then to come. The competition was set to be held from 20 – 24 April 2020 however its continued existences was threatened by the novel SARS-COV-19 or Corona Virus. The organisers decided to migrate the regional rounds onto a virtual system. So began an intensive virtual training regime for the team from the announcement of lockdown. The team will present twice this week, and a further two times if semi-finals and finals are reached. Both the complainant and respondent states will be argued for. This week will be the culmination of six months of hard toil and the team is ready A special thanks must go to Camilla Warring who as captain, marshalled her team well and has lead with distinction, strongly supported by team and coaches.
Best of luck Rhodes, you consistency during these trying times will see you not only prosper during these regional rounds but hopefully into the finals as well.