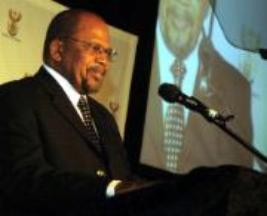 The Law Faculty is proud to announce an exciting new development: the appointment of the Honourable Judge Lex Mpati as Patron of the Rhodes University Law Clinic.
Judge Mpati is President of the Supreme Court of Appeal and Chancellor of Rhodes University. He is an alumnus of the Rhodes University Law Faculty, having obtained the LLB degree in 1983. After graduating from Rhodes, Judge Mpati practised as an attorney and then as an advocate for a number of years, where he was attached to the Grahamstown branch of the Legal Resources Centre. In 1997 he was appointed a permanent judge of the Eastern Cape Division of the High Court. In 1999 he was appointed as a judge of appeal in the Supreme Court of Appeal (SCA). In 2003 he became Deputy President of the SCA, and in 2008 achieved the signal honour of becoming the first alumnus of this Faculty to be appointed President of the SCA.
Judge Mpati will be contributing in numerous ways to the work of the Law Clinic, including the provision of counsel and advice to the Management Committee on the Clinic's strategic direction, and he will be a wonderful role model for the staff and students of the Clinic. He will also provide invaluable support for the Clinic's fundraising endeavours, in particular a Rhodes Law alumni fundraising drive to be launched shortly, which will go a long way towards ensuring the longer-term sustainability of the Law Clinic.