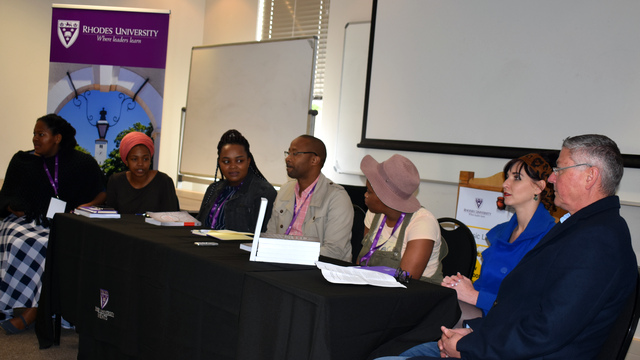 By Zamamiya Majola, Rhodes University contributor
Collaboration between students and supervisors is key, explained Professor Monwabisi Ralarala the Director of the Fundani Center for Higher Education, CPUT and Chairperson of the African Language Association of South Africa (ALASA), at a recent book launch at Rhodes University.
"For us to do better in terms of knowledge generation and knowledge creation, we need to hold [students] by the hand as part of material development and creating new knowledge. I think this book does that well because you have postgraduate students working hand-in-hand with their supervisors," he said.
Prof Ralarala was speaking as one of the Editors and Contributors at the launch of the 15-chapter book, "New Frontiers in Forensic Linguistics: Themes and Perspectives in Language and Law in Africa and Beyond". The book launch was hosted by the NRF SARChI in the Intellectualisation of African Languages, Multilingualism and Education on 10 October 2019, as part of a two-day Forensic Linguistics Colloquium.
The evening gave attendees an insightful look at what to expect from the book. The launch was chaired by Ms Zakeera Docrat, a Contributing Author and PhD Student in African Languages.
As a collaborative text with international contributors, the book gives readers an international and local perspective on forensic linguistics and shows its effect on ordinary people - from their access to justice to their language rights.
Professor Russell Kaschula, an Editor and Contributing Author of the book and the NRF SARChI in the Intellectualisation of African Languages, Multilingualism and Education, gave attendees an overview on how the book came to be. Prof Kaschula spoke about the shift in African languages growing within the literary domain, which has increased input from young black scholars. He added that the shift has allowed for books like this one to emerge. The book falls under the topic of 'applied linguistics', a discipline exploring the practical applications of language studies.
Mrs Annelise de Vries a contributing author & PhD Student in Forensic Linguistics, University of Johannesburg, elaborated on a chapter she contributed. The chapter explores the role of language as a tool to enhance access to justice. It discusses the constitutional language imperative and looks at the necessity of policy changes. De Vries stated that being monolingual is a sign of not having language awareness.
Ms Ntombizethu Nyakambi, a MA Student in African Languages at Rhodes University, gave an emotional review of the book. Sharing her sentiments about how the book is written for a greater demographic and not just for academics. She thanked the contributing authors writing "incwadi efundekayo" [a book that is easy to read].
Near the end of the evening, Prof Ralarala revealed a second volume is underway which touches more on language and the law from a global perspective.