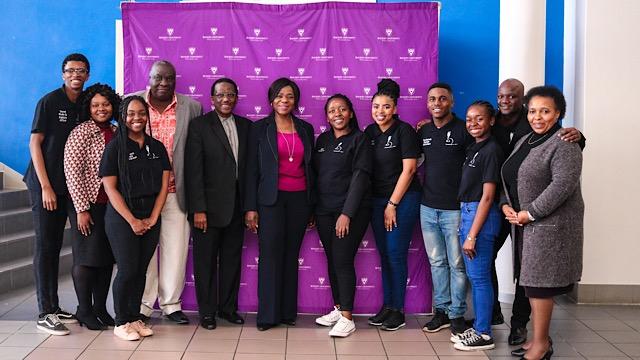 The Rhodes University Black Lawyers Association Student Chapter (BLASC) recently hosted their first-ever annual colloquium. The guest of honour was Professor Thuli Madonsela. She is currently the Law Faculty Trust Chair for Social Justice and is a professor at Stellenbosch University. She is the former Public Protector, and she was named Times 100 Most Influential People in 2014 and Forbes Africa Person of the Year in 2016. She was also one of the drafters of the Constitution and the Employment Equity Act amongst other legislation. She has been known for her fearlessness, accountability and her integrity in her leadership roles in the exercise of justice and use of public resources. She has five Honorary Doctorates of Law, one of them being from Rhodes University.
BLA decided that it would be fitting to invite Professor Thuli Madonsela to come and engage with student panellists on Political Party Funding, due to the recent enactment of the Political Party Funding Act 6 of 2018 (PPF Act). The chair of the panel was Mr Thapelo Tselapedi, a Politics lecturer at Rhodes University. His MA degree at Rhodes University focused on political theory, social movements and local government. He worked for a public interest organization in Johannesburg as a social researcher focusing on social movements in Gauteng North West and KZN. He also worked for an NGO called Local Government Network which hosted constitutional literacy workshops on local government and he is currently completing his PhD on critical approaches to International Relations through the University of Pretoria.
The panel was joined by Final Year LLB student, Mojalefa Motshepe and Penultimate Year LLB student Sharon Sambaza. The discussion was focused on whether or not the PPF Act will bring accountability in terms of political party funding for campaigning and elections. Professor Madonsela spoke about how our democracy is under attack because of corruption. She stressed that PPF Act speaks to social justice for the public to know where public resources are going and to make sure that politicians are transparent about the funding they acquire for their parties. 'Political party funding creates a playing field that is not equal. Whoever has the lion`s share of the money is able to convince people through marketing', Madonsela said. 'People believe the glossy picture which political parties present to people and people consent to those lies, not to their governance, and this Act to a certain extent addresses these issues', said Madonsela.
With this new Act, political parties will have to disclose who funded them. The PPF Act also prohibits funding from certain organisations and other countries. This Act does not just speak to who is funding who, but also the different forms of funding which are prohibited, 'like money laundering, which is money which has been illegally obtained and then you clean it up, for example when political parties receive money from other countries and it eventually gets cleaned up in order to fund the political party', explains Madonsela.
Madonsela also emphasised that there are bigger issues to deal with like poverty and unemployment, and yet parliament is worried about state capture and who is funding who. 'A derailment of democracy is not always done by the executive. The agenda in parliament can also derail democracy', said Madonsela.
The student panellists emphasised that the real question is whether or not this Act will end corruption. Madonsela answered by saying, 'There is a certain amount of money which can be awarded to political parties so that there are no extravagant amounts spent and this gives power to you as a citizen to know what`s going on'.
There was an active atmosphere amongst the audience that was part of the premiere of the BLA`s annual colloquium.