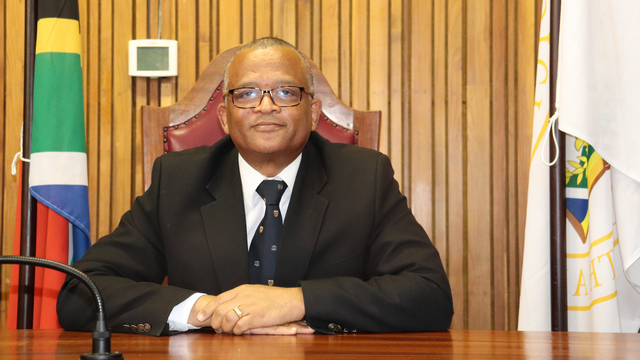 When a young Gerald Bloem was growing up in Kroonstad, he never imagined he would one day be entrusted with the role of Rhodes University Council Chairperson. The now Judge of the Eastern Cape Division of the High Court, stationed in Makhanda, has taken over the baton from the previous Chairperson of Council, Mr Vuyo Kahla. He thanked Mr Kahla for his immense contribution to the University as the Chairperson of Council.
Judge Bloem went to school in Kroonstad, Bloemfontein and matriculated at Uitenhage High School in 1976. He attended the University of the Western Cape where he obtained a BA degree and a Senior Secondary Teachers Diploma in 1981. After teaching in Kroonstad for some time, he was motivated by the social landscape to come to Rhodes University, where he studied and obtained the LLB degree in 1986.
He practised as an attorney until 1996 after which he practised as an advocate – first in Bhisho and thereafter in Makhanda until 2015. He was then appointed and is currently a judge of the Eastern Cape Division of the High Court, stationed in Makhanda.
"In my legal career, I was privileged to have worked with the late Bonisile Sandi (first as my mentor during articles of clerkship and after that as a judge colleague), then judges Jeremy Pickering, Clive Plasket and Rhodes University Chancellor, Lex Mpati. We first worked together as practitioners at the Legal Resources Centre and then as colleague judges, although Mpati was attached to the Supreme Court of Appeal when I was appointed," he explained.
The new Chairperson of Council said the highlight of his career as a practitioner was during the late 80s and early 90s when he represented indigent litigants in the rural areas of the Eastern Cape who were assaulted and unlawfully arrested, detained and in some cases maliciously prosecuted by members of the South African Police Service.
Judge Bloem said his goals are to assist Rhodes University to remain (and possibly improve as) an outstanding internationally-respected academic institution; to affirm its African identity; and to stay committed to the Constitution, rigorous scholarship, sound moral values and social responsibility. "Regarding social responsibility, I support Rhodes University's aim of doing everything possible to accommodate academically-deserving students who do not have the financial resources to study. I would also like to see Rhodes University as the tertiary institution of choice for learners from Makhanda and surrounding areas," he explained.
Regarding representivity, the Chairperson said he gets the impression that there is an appreciation by the academic and support staff for Rhodes University to be representative of, particularly, gender and race. "Recent developments of the implementation of the Institutional Transformation Plan make me believe that Council and Senate take the issue of representivity seriously," he added.
Judge Bloem is married to Sharon, a retired professional nurse and presently a student at Rhodes University. Their daughter is teaching English and Drama in Hong Kong, one son is a student at Unisa, and the other at Stellenbosch University. "Except for my son who studies a course at Stellenbosch University which is not offered at Rhodes University, the rest of my family have been students at Rhodes University," he concluded.
He has served as the Vice-Chairperson of the Council from 07 March 2019, and his Chairmanship started on 01 July 2020 and will end on 30 June 2022.