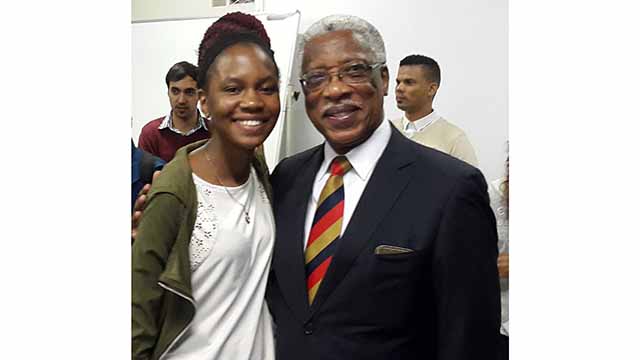 The Eastern Cape Division Judge President's encouraging speech helped set a positive tone for the coming academic year at Rhodes' Faculty of Law annual opening function, which took place 1 March 2018.
Students and academic staff alike gathered in the Moot Room to listen to Judge President Mr Justice S M Mbenenge's inspiring vision for the future of law, which was accompanied by Prof Rosaan Krüger, Dean of Law's unveiling of several significant 2017 student achievements.
Mbenenge's speech started with an expression of gratitude for getting a chance to share his thoughts at the Faculty's opening. "The opportunity to spend time with bright-eyed, young potential jurists and future lawyers is golden," he said.
He lauded Rhodes University (RU) as an institution and its Law Faculty in particular. "Nowadays, law faculties espouse the idea that legal education should inspire learners to be thinkers – to emphasise legal reasoning, instead of merely legal knowledge. Rhodes University does this very well."
According to Mbenenge, RU graduates have always been well equipped to compete at the highest levels of law, business, and government which, he believes, shows exceptional intellectual preparation in relationship building, trust, and influence. "No less than four of the members of the Eastern Cape Division graduated from this institution," he pointed out.
In summation of his esteem for RU, Judge President congratulated both the Law Faculty for doing such an outstanding job in preparing future lawyers for the challenges of our modern age, and the students for choosing to study through RU.
He briefly brought the attendees up to speed with the latest changes in the legal arena. "Although there are many careers within the field of law, you need to become an attorney or an advocate if you plan to actually practice law. In the past, attorneys used to ply their skills in the lower courts while advocates honed their skills within the walls of the high courts. This is no longer the case – attorneys are now able to practice in the higher courts as well. With the promulgation of the Legal Practice Act, the distinction between an advocate and an attorney are less significant."
Shifting focus to the future of the students' role in law, Mbenenge drew upon his many years of experience to offer the room invaluable insight. "The journey you have chosen requires self-awareness – and although it is crucial to this field, it does not always come naturally. You can help fine-tune your self-awareness by becoming consciously mindful of the role you play in any given group – your positive and negative contributions. You can achieve this by looking at yourself through the eyes of others. Eventually, you will find your interactions with others immensely improved. I would suggest you start now, while studying, so that you can walk into your first job with the confidence that you can easily win the trust of your peers, clients, and superiors."
The Judge President then offered the first year students specific advice, "While you are being prepared or enabled for leadership, be like a sponge and absorb as much information as you possibly can, and remain pliable like dough, so as not to hinder the process and efforts of those who are working to shape you."
Finally, Mbenenge parted with some timeless words of wisdom for the attendees, originating from ancient Latin forbearers: Non scholæ sed vitæ (We do not learn for school, but for life).
As its commencement, the function ended on a very positively-charged note, as the faculty honoured its most noteworthy student achievements from last year.