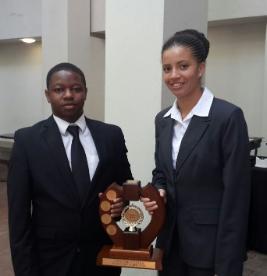 Ms Moya Vaughan-Williams and Mr Franklin Mbiriri representing Rhodes University Law Faculty won the 2014 Annual Child Law Moot Competition hosted by the University of Pretoria and sponsored by their Centre for Child Law.
Ms Moya Vaugh-Williams was unanimously voted the Best Oralist in the competition.
The competition took place over two days. The moot topic was based on the limitation of the competing rights of freedom of expression of the media and a child accused's right to privacy. This is a grey area in the Child Justice Act which has yet to be decided by the courts. The question was whether or not the media should be allowed to attend, reveal the identity and report on the court proceedings when an accused who was charged when a minor and then turns 18 before his court proceedings began, thereby losing the protection of the Act. The issues were similar to the recent Don Steenkamp murder trial, where the court did not get the opportunity to decide on this point. This topical issue is linked to the systemic challenges in the criminal justice system with remand juvenile offenders. The lack of precedent on the matter required extensive research and preparation. The students argued five rounds on appeal alternatively for the applicant and respondent. The final was heard in the Pretoria Palace of Justice on the 19th of September, and was against the University of Johannesburg who won the competition last year.
In the final the Rhodes team argued on behalf of the respondent that the media should not be allowed to report on court proceedings of the accused. The basis of their argument was that a proper interpretation of the Child Justice Act together with other relevant considerations such as a limitations analysis of the competing best interest rights would support the argument that the respondent be granted closed court proceedings. The bench they argued before was constituted by Pretoria High Court Judge Jody Kollapen, Johannesburg Advocate Steven Budlender and Kempton Park Acting Chief Magistrate Daniel Thulare. The added privilege was having the Deputy Judge President of the North Gauteng Division of the High Court, Judge Aubrey Ledwaba address the court on the historical significance of the Palace of Justice and sit in on the case.
The Rhodes Law Faculty team was coached and accompanied by their Law of Persons Senior Lecturer, Ms Brahmi Padayachi.
Source: Mrs B. Padayachi, Faculty of Law
Please help us to raise funds so that we can give all our students a chance to access online teaching and learning. Covid-19 has disrupted our students' education. Don't let the digital divide put their future at risk. Visit www.ru.ac.za/rucoronavirusgateway to donate