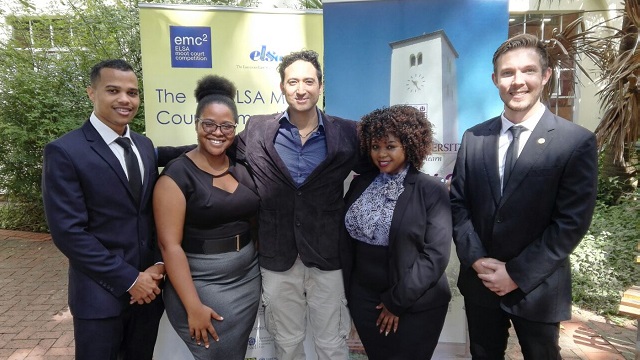 Four final year LLB students participated in the All Africa Round of the ELSA Trade Law Moot competition during 24 to 29 April. This was the largest competition of in Trade Law with twenty universities competing from across the African Continent. This was the first time that this leg of the competition was hosted in Nairobi, Kenya, with Strathmore University (Kenya) being the host institution.
The competition structured features continental legs taking place in each continent (and two in Europe). The winning top four teams from each continent then compete against each other at the World Finals in the Geneva, Switzerland at the World Trade Organization (WTO) in June of this year.
The Rhodes University Faculty of Law is proud to announce that we are the only South African team to have made it into the top, with the team finishing in Second Place in the Africa round. Rhodes team member Kudzani Tvetu was awarded the prize of Best Oralist in the African Grand Final against the Kenyan School of Law.
The members of the award winning team are Welsey Howe; Christopher John White; Kudzanai Winnet Tsvetu and Samantha Tanyaradzwa Chiunzi and Adv Shuaib Rahim (coach).
This dedicated team has been working on arguing a hypothetical trade law scenario. The scenario tests the ability of teams to apply international trade law, economics and lateral thinking in finding novel solutions to a complex problem that seeks to reconcile trade objectives and imperatives with sustainable development. All of this is sought to be done in a manner does not unjustifiably impeded the economic growth of any party or unfairly prejudice trading partners.
The completion is set again a backdrop of attempts in Africa to establish an African Customs Union. Critical to such a Customs Union would be an own enforceable dispute settlement process modelled on the Dispute Settlement Understanding (DSU) as is applied between all WTO members.
The World Finals in Geneva presents a historic opportunity for Rhodes University and students from Africa to promote the institution and seek to secure opportunities with the WTO, Law Firms and Trade Agencies, for Rhodes University and African graduates.
The students commented on how they were able to draw on their stills in Mooting at Rhodes, from Civil Procedure as well as Alternative Dispute Resolution in Kenya and they especially wish to thank their coach, Adv Shuaib Rahim, as well as Adv Renaud and Prof. Campbell for their academic support. A special word of thanks is extended also to Prof Owen Skae, Director of the Rhodes Business School, for spending time in sharing his experience on International Trade with the team.
The team also wants to further thank everyone who made it possible for them to attend, including Mr Luzoko Booi (Director: Marketing and Communications), Ellen Bagshawe-Smith, LexisNexis and other staff members who contributed.
The team looks forward to flying the flag for Africa and Rhodes University at the World Final in Geneva.
Adv Shuaib Rahim
ELSA Coach and International Trade Law Lecturer 2018