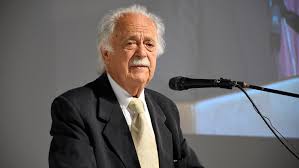 Rhodes University community has learnt with great sadness about the passing of one of gallant fighters against apartheid and a long-time friend of Nelson Mandela, Advocate George Bizos.
Advocate Bizos helped defend Dr Nelson Mandela, alongside Govan Mbeki and Walter Sisulu, during the Rivonia Trial in 1963 and 1964. He also appeared in numerous inquests into deaths in detention during apartheid, including those of Neil Aggett, Ahmed Timol and Steve Biko.
The veteran human rights lawyer died peacefully at home of natural causes, attended to by family. He was born in 1928 in Koroni, Greece, and arrived with his father in South Africa, aged 13, as a refugee from World War 2. He went on to study at the University of the Witwatersrand and was admitted to the Johannesburg Bar in 1954.
Rhodes University conferred one of its highest honours on Advocate Bizos, that of a Doctor of Laws (LLD) (honoris causa), at its annual graduation ceremony in April of 2011.
During his graduation speech, he said, "I believe that your generation will reject the fatuous reasons often advanced for abrogating the rights of freedom, equality and dignity of all the people in our world. We should not accept that the main principles of democracy are mere words. We should insist that human rights should be respected, promoted and obeyed. The Executive or the Legislature have no right to interpret them. That is the function of independent courts. I am confident that your generation will do better than mine. We must remember and strive for a world in which all the people deserve to enjoy the human rights prescribed in the various documents. Don't let us be misled into believing that they're not valid throughout the world"
Advocate Bizos served at the Truth and Reconciliation Commission, to represent, among others, the families of black consciousness leader Steve Biko and the Cradock Four — Matthew Goniwe, Fort Calata, Sparrow Mkhonto and Sicelo Mhlauli — to oppose amnesty applications by apartheid agents. He, as part of the Legal Resources Centre, appeared for some of the mine workers' families at the Marikana Commission of Inquiry into the police killing of 34 mine workers on 16 August 2012.
"We are deeply saddened by the passing of Advocate George Bizos. At its meeting today, the University Council paid tribute to him for his remarkable and sustained contribution to our society over many decades. Advocate Bizos dedicated his entire life to the cause for justice, human rights and human dignity. He was the very embodiment of selflessness, humility, and integrity. He was a fearless and dedicated advocate for the most vulnerable in our society. Advocate Bizos could have easily risen through the legal profession to the highest levels as the Chief Justice and enjoyed the comforts and trappings of material and financial benefits associated with higher position. He however chose to remain rooted in the daily travails of ordinary people. He was a fine example worth emulating," said Rhodes University Vice-Chancellor, Dr Sizwe Mabizela.
Rhodes University would like to offer heartfelt condolences to the Bizos family and friends. He dedicated his entire life in fighting for a better South Africa and the manifestation of the Freedom Charter.