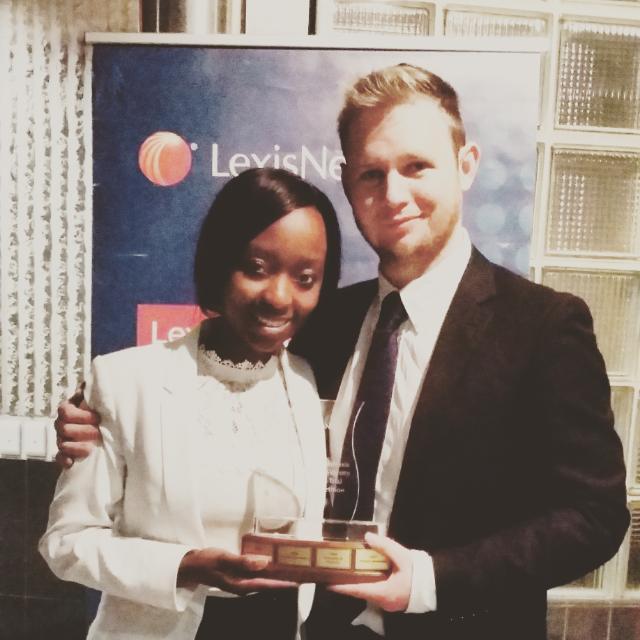 Recently, 18 mock trial teams from different South African universities competed in this competition in Port Elizabeth, hosted by NMMU.
Teams of two prepare for questioning of witnesses and delivery of closing arguments under time pressure and competed against each other in four preliminary rounds presided over by seasoned advocates and judges. The four best teams from these rounds competed in the semi-finals.
Rhodes was represented by two teams, the first consisting of Diana Machingaidze and Ben Rule, and the second Charlotte Hammick and Jason Manyenyeni. Charlotte and Jason's team was ranked first in the competition over the preliminary rounds, achieving the highest overall score. Both teams progressed to the semi-final, where they faced each other. Diana and Ben won the semi-final by a single point, and proceeded to contest the final against a team from the University of Venda. Diana and Ben won the final and thus the competition, returning the trophy to Rhodes Law Faculty after a long absence (Rhodes last won the competition in 2007). The final took place before a bench of five, presided by a retired High Court judge.
At a ceremony after the final, Diana and Ben were presented with the trophy for winning the competition. There is additionally a prize awarded each year for the team who had the best individual round in the competition. This prize was shared by both teams from Rhodes, who in respective individual trials in the preliminary rounds were able to achieve a perfect score.
The Rhodes team was coached by Ms Jaylynne Hillier who was ably assisted by Ms Siphesihle Mguga who accompanied the students to the competition.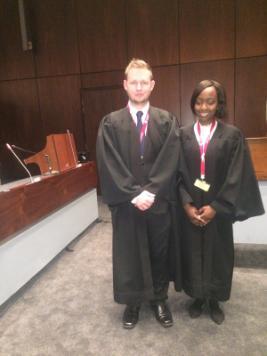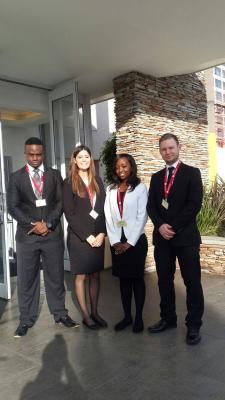 Ben and Diana in Court Jason, Charlotte, Diana and Ben