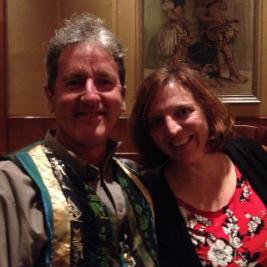 As the students of Rhodes University headed home for a well-deserved vacation, Law Faculty and Law Clinic members headed to Durban for SALTC 2015, a multi-faceted conference for law teachers across Southern Africa. All members and two postgraduate students presented at the conference (see list of topics set out below). The conference also included a meeting of the SA Law Dean's Association, as well as the Association of Law Clinics (SAULCA) where Rhodes was represented.
Students will be delighted to know that their lecturers, law clinicians and postgraduate students upheld the Rhodes reputation in both the academic and social events. Nine Rhodes representatives presented their research at the conference in all, starting with Mrs Helen Kruuse's contribution to the first plenary of the conference, and the last paper being given by the Dean, Dr Rosaan Kruger. It was the latter who was kind enough to open the dance floor at the Varsity College cocktail party, and she soon had all of the attending Rhodes members joining her. Ms Vicky Heideman walked away from the conference with several prizes for achieving the highest mark in a set of LexisNexis quizzes, while Ms Tayla Waterworth won a prize from Juta after representing the first time presenters in a puzzle building challenge.
The conference also hosted a meeting of the South African Law Dean's Association where Dr Kruger, the Dean of the Rhodes Law Faculty, was appointed deputy chairperson of this important association.
Many thanks must go to Varsity College for hosting the conference so well in the sunny (and slightly rainy) beautiful city of Durban.
List of presenters and topics:
Prof Jobst Bodenstein 'Quo vadis the 'bleeding heart' law clinician – welcome to the real world'
Prof Jonathan Campbell 'The incorporation of justice education through clinical legal education in LLB programme design'
Mr Lloyd Chigowe 'A toothless Bulldog: the aftermath of the reforms to the SADC Tribunal'
Mrs Vicky Heideman 'A closed book(?): Re-examining the nature of assessment in the LLB curriculum'
Ms Jaylynne Hillier (co-presented) 'First do no harm – Best practice for clinic law supervisors'
Prof Laurence Juma 'Appraising the role of the African Union in the promotion of International Humanitarian Law in the Africa'
Dr Rosaan Kruger 'Law shaping behaviour – the case of harassment'
Mrs Helen Kruuse 'Legal ethics education: Using theory for best practice'
Ms Tayla Waterworth 'Sympathy versus Sovereignty: an analysis of the SPS Agreement and its potential effects on trade in developing countries'