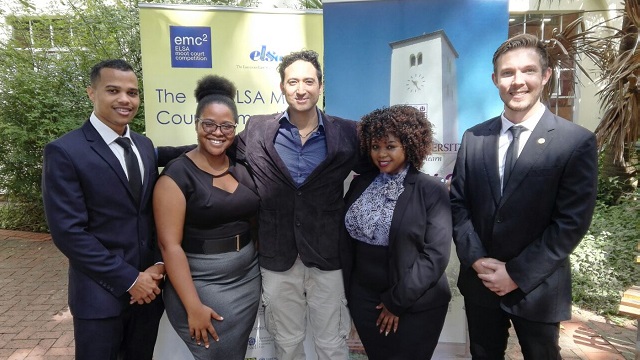 Dear Friends of the Faculty
Four of our final year LLB students leave for Kenya to compete in the All Africa Round of the European Law Students' Associations (ELSA) International Trade Law Competition.
The EMC2 is a simulated hearing of the WTO dispute settlement system. The teams prepare and analyze a fictive case and present their arguments both for the Complainant and the Respondent in front of a Panel which consists of WTO and trade law experts.
The winning teams will then compete against teams from Asia, Europe and the United States of America in Geneva, Switzerland in June of this year.
The team which consist of, Wesley Howe; Kudzanai Tsvetu; Chiunzi Samantha Tanarazwa and Christopher White have been working on both the written and oral arguments ardently since November 2017.
A special thank you to Adv Vicky Heideman for all her support and for being a very special member of the team. Thank you also to the Rhodes University Communications Division and the DVC Academic for their support in making this project possible. Lastly thank you also to Lexisnexis for their support.
Please follow the following link to read the case set for 2018:
https://files.elsa.org/MCC/1718/Case_17_18_final.pdf
We wish the Rhodes International Trade Law Team the best of luck!
Adv Shuaib Rahim