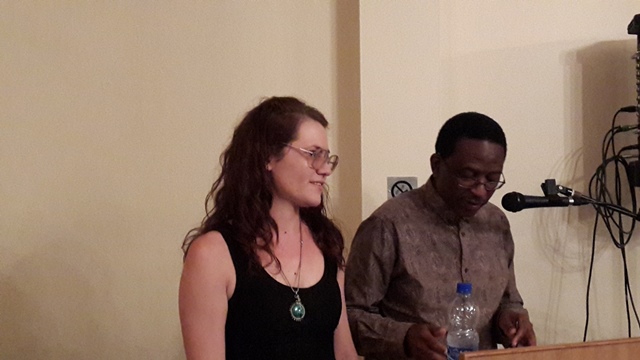 Rhodes > Ruth Simbao > Latest News
Rhodes Fine Art Students and Staff Publish Special Volume 'Blind Spots and Ways of Not Seeing'
Date Released:
Thu, 15 October 2015 14:33 +0200
In 2014 the Visual and Performing Arts of Africa (ViPAA) research group organised a symposium, Blind Spots and Ways of Not Seeing in conjunction with the Residencies for Artists and Writers (RAW—EC) programme founded by Professor Ruth Simbao. This year Simbao edited a special volume of the accredited journal, Image and Text. Following a blind peer review process, two Rhodes students' papers were published, one by current PhD candidate Rachel Baasch and the other by Jennifer Ball, who completed her Bachelor of Fine Art degree in 2014.
On the 7th October 2015, Vice-Chancellor, Dr Sizwe Mabizele congratulated postgraduate students for their achievements.
Image & Text 25 (2015)
Editorial: Blind Spots: Trickery and the 'Opaque Stickiness' of Seeing (Prof Ruth Simbao)
Guarded Visions: Walls, Watchtowers and Warped Perspectives in the Israeli Occupied West Bank Palestinian Territory (Rachel Baasch)
Evasive Manoeuvres: Participatory Theatre in the Facilitation of Counter-Disciplinary Action/Inaction in a South African Female Correctional Centre (Dr Miranda Young-Jahangeer)
Inkblots and their Indices: Rethreading Perception in the Work of Igshaan Adams (Jennifer Ball)
What 'Global Art' and Current (Re)turns Fail to See: A Modest Counter-Narrative of 'Not-Another-Biennial' (Prof Ruth Simbao)
Image: Rachel Baasch (left) and Dr Mabizela (right)
Source:ViPAA