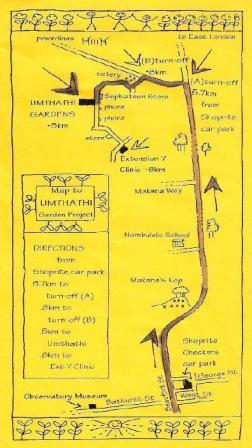 Directions to Umthathi
Umthathi Training Project is a Non Profit Organisation that supports vulnerable groups such as women, children, the unemployed, HIV/AIDS sufferers and some of the most impoverished rural communities in Eastern Cape. Their mission is to improve household health through increasing food and livelihood security, making effective, sustainable use of available resources and developing the skills necessary for improved self sufficiency in rural and peri-urban areas of the Eastern Cape. Their programmes reach areas roughly 200km from their home base in Grahamstown. Umthathi collaborates with a number of local community groups such as the Albany Horticultural Society and Galela Amanzi.
More info
Visit Umthathi Training Project Nursery, 4122/23 Xhora Street (Sophiatown), Extension 7, Rhini / Grahamstown, 6139, South Africa
View their website www.umthathi.co.za
Make contact: info(at)umthathi.co.za or directorofoperations(at)umthathi.co.za or call 046 637 0012.
Go to the Rhodes University ENVIRONMENT front page. Suggestions/Questions? Contact environment(at)ru.ac.za
Last Modified: Wed, 03 Feb 2016 15:27:05 SAST