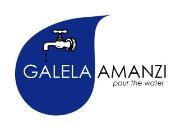 Galela Amanzi - meaning "pour the water" in Xhosa - is a Rhodes University student project formed in 2007. It has links to the North Eastern University in the USA - through the GLOBAL PACT Programme.
Galela Amanzi installs rainwater tanks in key locations in the disadvantaged regions of Grahamstown, providing water for irrigating community vegetable gardens, for cooking and drinking purposes, as well as keeping schools open when there are water supply problems. In this way, they promote healthy and sustainable communities. Since their launch, Galela Amanzi has successfully set up several rainwater tanks in the following areas in Grahamstown: Sun City Community Centre, Andrew Moyake Primary School, St Augustine's Church, Eluxwoleni Children's Shelter, and more tanks are to be installed this year.
In 2008, Galela Amanzi was elected as the official Rhodes campus initiative for community engagement, housed in the Centre for Social Development (CSD). From 2010, Galela Amanzi continues as a student society on campus. They collaborate with a number of local community organisations, including the Kowie Catchment Campaign, Umthathi Training Project and Rhodes University's Centre for Social Development, and Children of the Soil.
Get involved in the ACTION:
Last Modified: Fri, 24 Jan 2020 11:04:52 SAST