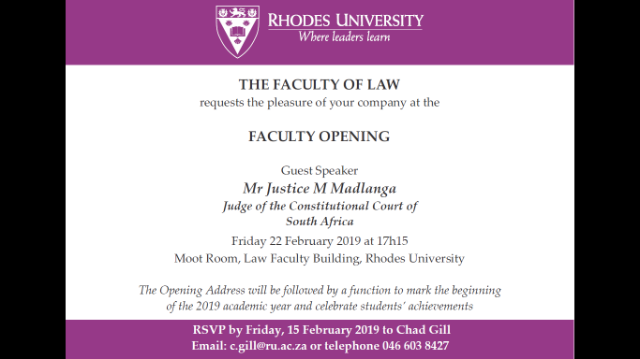 Rhodes > Law > Latest News
Faculty of Law Opening function at 17:15 in the Moot Room, Faculty of Law
Date Released:
Fri, 15 February 2019 10:43 +0200
At the beginning of each year, the Rhodes Facutly of Law hosts an opening function where the Dean of the Faculty, Prof Rosaan Kruger, welcomes the staff and students to the Faculty in the new academic year. The event begins with a public lecture presented by our special guest. Thereafter, the function is ended off by celebrating the academic achivements of our students for the previous year. This year's speaker is Justice M Madlanga, Judge of the Constitutional Court of South Africa.
Please join us on 22 February 2019 at 17:15 in the Moot Room, Rhodes University Faculty of Law.
RSVP by Friday, 15 February 2019 via email to Mr Gill (c.gill@ru.ac.za)
by N Mashinini
Source:Faculty of Law