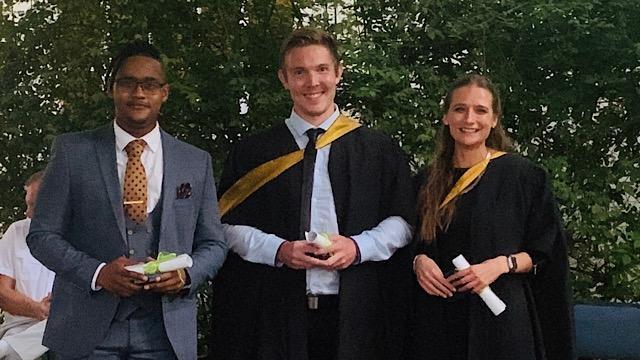 Rhodes > Law > Latest News
LLB Graduation 2019
Date Released:
Thu, 11 April 2019 20:05 +0200
The Faculty hosted a celebratory garden party for our LLB graduates on 11 April 2019.
The Dean, Professor Rosaan Kruger, started the event with warm words of welcome addressed to our graduates and their families. Professor Kruger reminded our students to pause and celebrate this milestone; and thereafter proceed with life, "cognisant of the responsibility that comes with the influence of legal education from Rhodes University". She also encouraged our graduates to stand up for justice and for the dignity and equality of all. The evening was ended with an awards ceremony to acknowledge our graduates' individual achievements.
Congratulations to all our graduates for completing an LLB degree and congratulations to the following prize winners:
Mikaella Bodeux
- Brian Peckham Memorial Prize for the best student in Environmental Law
Silke Joseph
- Tommy Date Chong Award for the student who makes the greatest contribution to the Law Clinic in their penultimate and final years of study at the University
Siphosethu Khumalo
- Phatshoane Henney Incorporated Medal awarded to students who obtain their LLB degree with distinction
Tuscany Parkin
- Phatshoane Henney Incorporated Medal awarded to students who obtain their LLB degree with distinction
- LexisNexis Book Prize for Final year Moot Winner (shared)
Robin Smith
- LexisNexis Book Prize for Final year Moot Winner (shared)
Jessica Steele
- Phatshoane Henney Incorporated Medal awarded to students who obtain their LLB degree with distinction
- Juta Law Prize for the best final year student taking into account the whole academic record for the degree
- RG McKerron Memorial Prize awarded to the best student in Law of Delict
Christopher White
- Phatshoane Henney Incorporated Medal awarded to students who obtain their LLB degree with distinction
- Fasken Martineau Prize for best student in Competition Law
- Judge Phillip Prize for obtaining the highest mark in the final year of LLB study
- Mtshali and Sukha Prize awarded to the best student in Legal Ethics and Professional Responsibility
- Spoor & Fisher Prize to the best student in Law of Copyright and Trademarks
- ENS Africa Prize awarded to the best student in Labour Law
by N Mashinini
Source:Faculty of Law