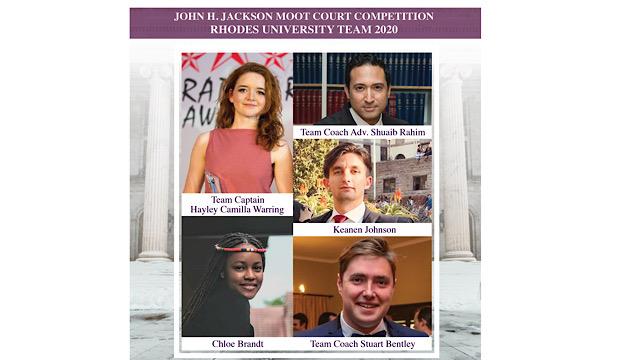 The Rhodes University team recently competed in the virtual African Regional Rounds of the 18th Edition of the John H. Jackson Moot Court Competition. The team is comprised of Hayley Camilla Warring (Captain), Keanen Johnson and Chloe Brandt, and is coached by Advocate Shuaib Rahim and Stuart Bentley.
This is a prestigious competition which simulates a trade dispute between fictitious countries before a World Trade Organization Panel. It is organized by the European Law Students' Association, and universities from every continent take part annually.
Numerous African universities competed in the African Regional Rounds, after two preliminary rounds the Rhodes University team proceeded to the semi-finals. The team emerged as one of the top four African teams overall. It was praised for its strong performance by Panelists, who are experts in the field of international trade law. Additionally, Hayley Camilla Warring received the award for Best Orator in the semi-finals.
As one of the top four African teams, the Rhodes University team is one of 20 teams globally which will proceed to compete in the final international rounds in Geneva later this year.