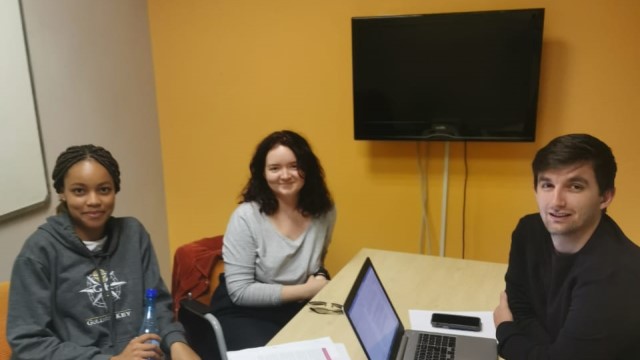 A team of final-year LLB students from Rhodes University has made it to the final round in the 18th edition of the prestigious John H Jackson Moot Court Competition, and member Hayley Camilla Warring was awarded Best Orator in the semi-finals. The semi-final took place online in late April.
Jakub Kacerek, Vice President in charge of ELSA Moot Court Competitions and Head of the Organising Committee, told the team, "You did an amazing job and you should be really proud of yourselves. I hope you enjoyed the competition even though we had to take these unprecedented measures and organise it virtually."
Given that the Rhodes University team and judges were practicing during lockdown, this meant that all work had to migrate first to Skype and then Microsoft Teams, which was chosen as the platform for the African Regional Round by the international hosts of the competition. "The fact that our team not only made it to the top four universities in Africa, but won the award for best oralist in the semi-finals and are now automatically in the Global Round is a phenomenal achievement," said Co-coach and Senior Lecturer at Rhodes University's Law Faculty, Advocate Shuaib Rahim. "We were forced to think laterally and move to using several different virtual platforms, some of which none of us had ever used before."
This year's team is Co-coached by Adv Rahim and ELSA alumnus, Stuart Bentley, and comprises Hayley Camilla Warring as Team Captain, and Chloe Brandt and Keanen-Troy Johnson. Bentley is currently studying Masters in Taxation at Rhodes University.
"This team had to adapt very quickly to a new method of mooting, a skill which is now being used by the legal profession during the Covid-19 pandemic. Such exposure granted them invaluable skills and afforded all involved much-needed insight into how the World Trade Organisation (WTO) functions," said Bentley.
However, the limitations of virtual debating, Bentley explained, posed some very real challenges. "For instance, the team was not able to 'read the room' as one would do in a traditional moot. At the same time, the team members had to take constructive criticism and work on a rational delivery of cogent arguments, demonstrating deference and professionalism at all times. After all, many of the people judging them as panellists were potentially future employers," he emphasised.
According to Adv Rahim, it cannot be understated just how important this exposure is to Rhodes University and the Law Faculty. "Most of the teams from the globe are Masters students with a specialisation in International Trade Law whereas the Rhodes University students are final year LLB students. The Rhodes University students have to master a wealth of knowledge in a field that they have to engage with for the first time. Given this, and our proven success in these competitions, our Law students are regularly approached to make appointments at firms in Brussels and Geneva as well as the WTO to apply for internships, further study and possible positions abroad," he explained.
Furthermore, the competition itself allows participants and coaches alike to network amongst fellow teams and WTO officials and law firms. This is a project that pays true dividends to students by affording them tangible opportunities in a chosen career path that is growing fast.
Rhodes University alumna, Kimberley Nyajeka, who started interning at the WTO in January 2020, is living proof of this. She recounts how being in the competition exposed her to new areas of law, such as dispute settlement, and it allowed her interact with professionals who advised her about pursuing a career in law. "Taking part also gives participants an advantage when they apply for Masters programmes as it shows they spent a significant amount of time engaging with it outside of the classroom, and therefore have a keen interest in the subject matter," she explained.
As someone who understands what the competition entails, she congratulated the current team for their commendable performance. "I cannot imagine how challenging it must be to do a virtual moot court competition, let alone with such a challenging topic. I hope you know how amazing and incredibly impressive this achievement is," she said.
Adv Rahim pointed out, "This is a project that embodies many of the goals and ideal of the Institutional Development Plan (IDP). We wish the team well as they compete in the Grand Finals starting 23 June, via MS Teams."
"It is important to note that Africa has taken this competition very seriously over the past three years. Prior to the Covid-19 pandemic struck, a record 28 African universities chose to participate with the full backing of their universities. This is especially important in light of the African Continental Free Trade Agreement that is now in effect, which has the real possibility of transforming the dynamic role that Africa plays on the world stage," Adv Rahim added.
The John H Jackson Moot Court Competition is sponsored by Van Bael & Bellis, King & Spalding, Steptoe & Johnson, Baker McKenzie and supported by the World Trade Organization, the Graduate Institute, IE University and Georgetown Law.