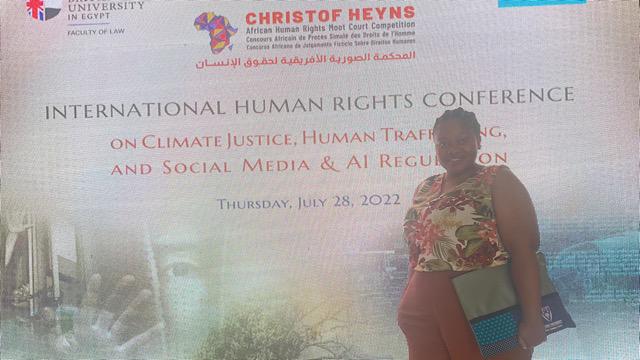 In her last act of duty for the Law Faculty, Dr Mashinini prepared and delivered a paper titled: "The gap between self-regulation and content-regulation: A case of Image Rights violations on social media".
The conference took place on 28 July 2022 as part of the 31st Christof Heyns African Human Rights Moot Court Competition. The British University in Egypt hosted the conference on the issues regarding Human Trafficking, Social Media and AI Regulation, and Climate Justice.
Dr Mashinini's doctoral study formed the core of her presentation. She probes whether we need to unify image rights protection across jurisdictions to ensure that social media policies efficiently regulate the misuse of people's images in the context of automated publication and the removal of infringing memes on social media.
For more about her study, try out her research podcast, Image Rights by N Mashinini.