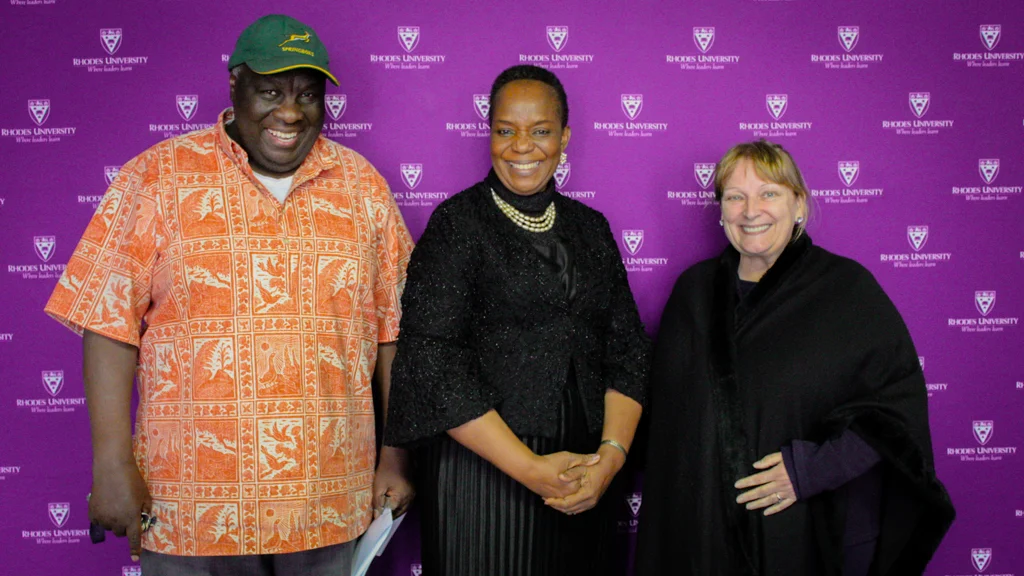 Sylvia Mugwagwa, Penultimate Year LLB Student
Rhodes University Law Faculty on Wednesday hosted a public lecture by Deputy Vice-Chancellor (Research, Innovation and Strategic Partnerships) at the University of Ibadan, distinguished visiting Professor Oluyemisi Bamgbose. Professor Bamgbose is the first female Professor of Law in Nigeria to be conferred the rank of Senior Advocate of Nigeria and is the current chairperson of the Nigerian Bar Association Women's Forum. She serves as the director of the Women's Law Clinic at the University of Ibadan.
Although Professor Bamgbose has a strong interest in women and children issues, having published 110 articles, books, and technical reports in this field of law, she chose to speak on what she described as a topic she hoped would be of interest to "the generality of the people" and not particularly confined to the legal field.
Dean of Law, Professor Lawrence Juma warmly welcomed and introduced Professor Bamgbose. Professor Bamgbose spoke on the topic "Good Office and Mini Trial: Alternative Dispute Resolution Mechanics for Peace and Nation Building". She began by stating that "disputes are a part of life for all living creatures" and that "throughout history, disputes resorting in conflict have been resolved and are still being resolved". She expounded that litigation, because of British colonial expansion, was imposed as the dominant form of dispute resolution, and though it has its advantages, its disadvantages gave the need for alternative dispute resolutions to be adopted.
Professor Bamgbose said her lecture was aimed at exploring the notion that "the use of alternative dispute resolution in some cases through the establishment of a grounded ADR structure in place, to resolve conflict rather than litigation, might be a solution to nation building."
Having described nation building as a process through which the boundaries of the modern state and those of the national state become congruent, she highlighted how the African nation in particular "is faced with this hardship in nation building because of the arbitrary determination of boundaries of African states by the colonial government for the convenience of their exploitation of different areas in Africa". She gave Nigeria as an example of how the forced amalgamation of different ethnic groups, with different political beliefs, laws and practices, provided problems in the maintenance and establishment of peace both nationally and internationally.
She gave an in-depth illustration of the historical ways in which disputes have attempted to be resolved in international conflicts between nations, citing the Paris Peace Conference of 1919 and Geneva Conventions of 1949. She then proposed that aside from the UN Charter referenced forms of alternative dispute resolution such as negotiation, mediation, and arbitration, international dispute settlements could benefit significantly from implementing Good Offices.
Professor Bamgbose described Good Offices as "a process whereby a third-party state seeks through diplomatic means to bring the parties in a dispute to a conference table in order to resume direct negotiation or agree on the method to the settlement, with a view to bringing an end to the existing conflict". She further elaborated, that the third-party state providing Good Offices may offer extensive facilities and services to the parties in dispute but must have limited involvement in the negotiation process. She elaborated that; the features of Good Offices are that they are consensus-based.
"They are less imposing, facilitate dialogue, and there is impartiality, and no interest in the issue by the third-party state facilitating Good Offices and the third-party state must be credible, depicting skill and expertise on the issue," she explained. She concluded the listing of the features of Good Offices by stating that they are founded on the principle of "win-win" solutions for both parties. She critically discussed case studies in which the alternative dispute resolution method successfully resolved conflicts involving the states of Senegal, the Democratic Republic of Congo, New Guinea, Cameroon, India and Pakistan.
Professor Bamgbose concluded by stating that the discussions of alternative dispute resolution she had delivered in her lecture should not be limited to the context of conflicts concerning nation building but extend to "everyday realities including domestic, national, professional and personal" issues. She expressed that "conflict should be resolved as amicably as possible to reduce its devasting consequences as much as possible".
Professor Bamgbose's lecture received an appreciative round of applause from the audience. Rhodes University Law Society, Thembelani Ncube thanked Prof Bamgbose on behalf of the staff and students and presented her with a gift which she said she would infinitely treasure.