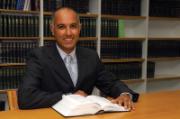 Professor of Law Avinash Govindjee – an accomplished researcher and lecturer, with a high level of involvement within the community – is the new Executive Dean in the Faculty of Law at Nelson Mandela Metropolitan University.
Prior to his appointment as Dean, he was Head of the Department of Public Law and Deputy Head of the Labour and Social Security Law Unit within the Faculty.
"It is a privilege for me to lead my colleagues in the Faculty of Law at this particular moment in time. I hope to facilitate better interaction between the legal profession, in all its dimensions, and the Faculty, and to create a multiplicity of opportunities for NMMU law students in the midst of a transforming landscape."
Prof Govindjee is an Attorney of the High Court of South Africa, consulting to the firm Cliffe Dekker Hofmeyr, and also serves the Commission for Conciliation, Mediation and Arbitration (CCMA) on a part-time basis, as a senior commissioner, specialising in employment equity disputes. In this role, he has served as conciliator and arbitrator in a number of interesting labour-related cases, including SABC's recent "Generations" dispute.
He is a consultant to the Institute for Social Law and Policy (ISLP), and has been involved in a range of labour and social-security related projects for various government departments and agencies, most recently in relation to the introduction of "return to work" arrangements in South Africa and Namibia.
Prof Govindjee, who has a C2 rating from the National Research Foundation, is a member of the South African Young Academy of Science (SAYAS), and has published widely in South Africa and abroad on themes broadly related to human rights, with specific emphasis on labour, social security and equality law.
He has been the NMMU Faculty of Law Researcher of the Year for the past five years.
In his role as a lecturer at NMMU, he teaches human rights law to undergraduate students and aspects of social security law to postgraduates. He also promotes doctoral candidates and supervises master's students in various areas of human rights law.
Prof Govindjee serves as an editorial member of a number of foreign journals, and peer reviewer for numerous South African journals.
He is also editor of LexisNexis's "Introduction to Human Rights Law" and is busy with the second edition of this text, in addition to drafting chapters for international book publications and articles for submission to journals in South Africa.
He is a member of Juta's Annual Labour Law Seminar presentation team, and an external examiner for various law faculties in South Africa.
In 2013, he was included in the Mail & Guardian's List of "200 Young South Africans" and Nelson Mandela Bay Business Chamber's "Top 40 under 40". The following year, he was a finalist in CEO Magazine's "Titans – Building Nations" Award for achievement in academia.
In 2015 he was awarded the Emerging Old Rhodian Award from his alma mater, Rhodes University.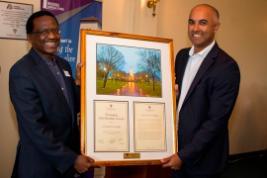 An avid sportsman, he also serves as an independent director of Cricket Eastern Cape (Pty) Ltd.