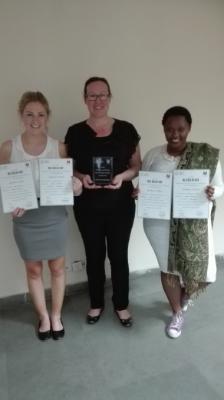 "On Wednesday 7 September 2016, 2 final year LLB students - Ms Orla Murphy and Ms Relebohile Chabeli, together with Ms Tarryn Cooper-Bell, an attorney at the Rhodes University Law Clinic, departed for Delhi, India to compete in the 3rd annual NLU Delhi – HSF International Negotiation Competition which was held in Delhi from 9-11 September 2016. This competition is a by invitation only competition and consisted of 28 teams from Universities around the world competing in simulated negotiations against each other.
The preliminary rounds were intensive and saw the Rhodes University team competing against the University of Mumbai as well as Kings College, London. Rhodes University was victorious against the University of Mumbai, however narrowly lost to King's College. Only 4 out of the 28 teams proceeded through to the semi-finals, with 2 teams then proceeding through to the final.
Rhodes University unfortunately did not make it passed the preliminary rounds of the competition which was eventually won by the University of the Sunshine Coast, Australia. Despite this, our participation in this competition taught us valuable lessons on negotiations. It was also interesting to see how Universities from around the world operated with regards to both their law degrees as well as their approach to competitions such as this one.
This was the first time that a Rhodes University team had been invited to compete in a competition such as this and we were commended by the organisers of the competition for our enthusiastic approach to the competition. As a result of this, the Rhodes University team won the trophy for upholding the "Spirit of the Competition". An award which was voted for by the 28 participating teams.
The Director of Herbert Smith Freehills: India Practice, Mr Chris Parsons, as well as the Vice Chancellor of the National Law University Delhi, Prof. Ranbir Singh both approached us and were extremely impressed with the Rhodes University team and the way in which we integrated with the other teams and upheld the name of Rhodes University. This definitely bodes well for our further participation in this competition."