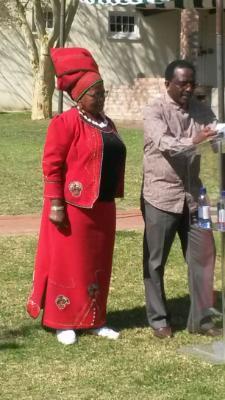 Thandeka Heleni has been the backbone of the Rhodes University Law Clinic for an uninterrupted period of 28 years as both receptionist and interpreter. At reception she is at the hub of the organisation, working at the front line of free legal service provision to the indigent community of Grahamstown. She is widely known in the broader community for her selfless dedication to the needs of others, also previously at the Black Sash and GADRA advice offices. For most prospective clients she is the first point of contact with the law, and she has to have an enormous amount of wisdom to know how to respond to clients' needs. Likewise in consultations she does far more than interpret between isiXhosa and English, but has the knack of often intuiting clients' real needs and guiding the young practitioner or student in the conduct of the matter.
Besides clients, Thandeka has the singular honour of having worked with every Rhodes University LLB student since Law Clinic work became compulsory for law students in 2001. She is extremely fond of her students, and visibly cheers up when they return at the beginning of a new semester – she seems to thrive on students' vitality and exuberance, even if misguided at times! Law graduates remember her fondly as the face of the Law Clinic, and joyful reunions are often heard at reception around graduation.
Perhaps most importantly, Thandeka has worked closely with dozens of attorneys, candidate attorneys and support staff since 1989, which has been like a family for many staff. She has not only touched our lives, but significantly influenced the way in which we work, and our very values. In her own quiet way she has been a kind of mentor figure and support to many: Mama Thandeka to all of us. It is difficult to imagine the Law Clinic without Thandeka's steady hand. She is also not afraid to speak her mind when necessary, in this way holding colleagues to account in the same way as she is accountable to them.
Some words from her colleagues Zuki, Zikhona, Vuyo and Hazel:
Ma J is the best mother we ever met. She opens her heart and hands for us. We didn't feel the absence of our parents because she is a good mother to all of us. Ma J we will miss you nyan–nyan. Your smile, laughter, kindness and your patience we will never forget.
You always correct us when we do wrong to show us that you love us as your kids. Whenever we come to you crying you do not push us away, you wipe our tears. You always show us the way. We will miss your wise words ma J.
We love you mama wethu. Who is going to bake vetkoek? Please bring them every Monday.