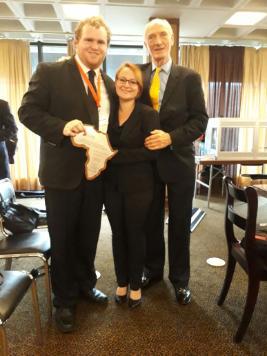 Rhodes University law students once again proved their standing at the 2017 African Human Rights Moot Court Competition held from 18-13 September at the University of Mauritius. The Rhodes Team, Abigail Butcher and Aidan Whitaker made it to the finals of the competition where they presented a compelling case in front an eminent bench of judges.
The African Human Rights Moot Competition is the largest gathering of students, academics and judges around the theme of human rights in Africa. This annual event brings top students who argue a hypothetical human rights case as if they were before the African Court on Human and People's Rights. This year students tackled issues related to the right to development and freedom of expression. Out of the 45 Anglophone, 6 Francophone and 3 Lusophone teams that participated Rhodes not only reached the final round but came 3rd overall. Abigail was ranked 4th best speaker out of the 90 English oralists while her partner Aidan clinched the 10th spot.
Each university is invited to send faculty representatives who have worked in the field of human rights and whose role is to give guidance to the university team on the drafting of their argument and litigation skills. The faculty representatives together with other human rights law experts also serve as the panel of judges in the preliminary rounds of the tournament. This year the Rhodes team was assisted by Professor Enyinna Nwauche and Mr Phumelele Jabavu.
Ultimately the competition aims to breed a new generation of human rights lawyers in Africa and thus also serves as a source of human rights education. The tournament also contributes to shaping the human rights discourse in Africa.