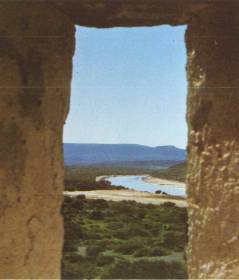 Nine frontier wars were fought in the Eastern Cape area over almost a century between 1779 and 1878. These wars are now referred to as the First to the Ninth Frontier Wars respectively. Some have other appellations, such as the War of the Axe (7th), the War of Nxele or Makana (4th), Hintsa's War (6th) and the War of Mlanjeni (8th).
The building of forts, garrisons, military posts and signal towers continued throughout the period. Many of these remain today as ruins and sites in various degrees of restoration. This account on the forts was compiled for the Grahamstown Historical Society by Eily Gledhill.  Photographs by Rex and Barbara Reynolds. Published by the 1820 Settlers National Monument Foundation.
This information is taken from the Grahamstown Website
The Fish River Frontier, as seen from a loophole in the gun tower, Trompetter's Drift.