It was the largest FUNd-raising event of its kind in Grahamstown - initiated by the Rhodes University Environmental Committee in 2010 as a fun run/walk with a serious aim - promoting sustainability in the town and on campus.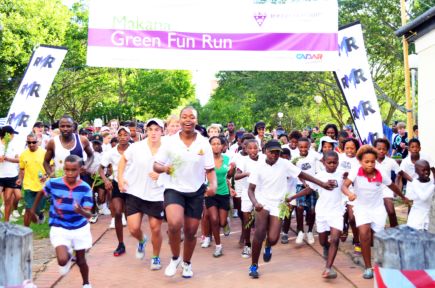 There were commentators, RMR music, green stalls, and spekboom for each and every participant. All were encouraged to wear an outfit that symbolises environmental sustainability. Indigenous trees were planted in honour of a wide variety of winning categories.
The event grew so big that it became impossible for volunteering staff to organise without institutional support.
Previous Green Fun Run Winners
In 2017 the event was taken over by Scifest - as part of its Etcetera programme - changed, and renamed "City on a Journey".
Previous Events
Go to the Rhodes University ENVIRONMENT front page. Suggestions/Questions? Contact environment(at)ru.ac.za
Last Modified: Mon, 13 Mar 2017 12:45:36 SAST