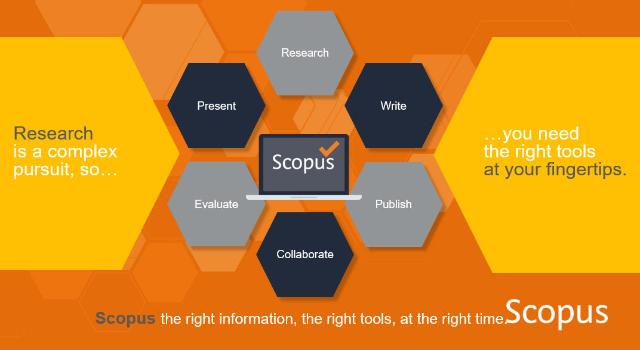 Scopus is the largest abstract and citation database of peer-reviewed literature: scientific journals, books and conference proceedings. It contains over 22,000 titles from more than 5,000 publishers around
the world, covering the fields of science, technology, medicine, social sciences, and Arts & Humanities. Scopus has 55 million records dating back to 1823, 84% of these contain references dating from 1996.
As research becomes increasingly global, interdisciplinary and collaborative, you can make sure that critical research from around the world is not missed when you choose Scopus.
Research is a complex pursuit. More than ever, finding the right result is as important as uncovering trends, discovering sources and collaborators, and analyzing results to yield further insights. Scopus features smart tools to track, analyze and visualize research.
Scopus - Learn how to easily start your search from the homepage and use all the features in Scopus with this handy Quick Reference Guide.
CiteScore - 2016 values are now available!
A new standard for measuring serial citation impact, CiteScore™ metrics are freely available for more than 22,600 titles on Scopus — 11,000+ more titles than the leading competitor. CiteScore metrics from Scopus are comprehensive, transparent, current and free metrics for serial titles in Scopus
PlumX Metrics now on Scopus: Discover how others interact with your research
PlumX Metrics – with five categories of metrics – is now the primary source of article-level metrics on Scopus alongside the Scopus citation count (along with percentile benchmarking) and Field-weighted citation impact.
Get credit for your work. Watch how to manage your Scopus author profile.