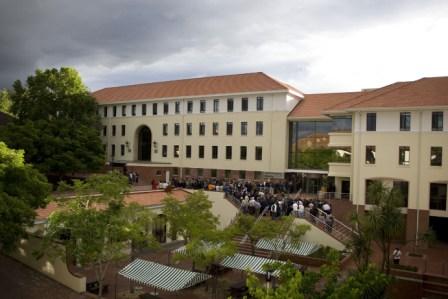 Guide To Rhodes University Library (RUL) Services
The Library is a hub of systematically organized, searchable, and accessible learning resource, designed to align with the RU academic programmes and it offers customized services for undergraduates, postgraduates, staff, visiting scholars and surrounding communities. All services are designed to support the academic project i.e. learning, teaching, research and community engagement endeavors of the University. This short video introduces you to the Library and the library staff: Welcome to Rhodes University Libraries.
RUL is made up of four libraries and three affiliated libraries. These are; the Main Library, the Cory Library for Humanities Research, the Alistair Kerr Law Library and the Sound Library. The affiliated libraries are the Margaret Smith Library at SAIAB, the Teacher Resources Centre, and the International Library of African Music (ILAM). Click here for more information on each of these libraries.
Library membership and access to Learning Resources
All registered students and Rhodes University staff are automatically members of the Library. Staff and community members are required to register annually to have access to the library service and facilities. For 2021 you will have to send your membership queries to Circulation Desk. or library@ru.ac.za. New students and new staff members have to activate/set up their library account in order to access online databases and eBooks remotely/off-campus. To create your library account, click here. This short video explains the easy steps to follow in setting up "My Library Account" If you experience problems with login procedures, please contact our Circulation Desk, for learning & research support, visit our Libguides or consult your Faculty Librarian for assistance.
Learning Resources
As a member of the Library, you are entitled to use the vast learning resources that will enhance your learning, teaching and research activities. The Library has +- 300 000 volumes of print books onsite, +-700 000 e-books and more than 66 online scholarly databases. Access to all learning resources is through the Library's web page Once you are here, you can search our Library catalogue, using either the exact title or subject keywords. The following "Search all" tutorial will explain the search process in details. Of the print resources, the short loan is the most heavily used by both staff and students however, due to Covid-19 protocols, there is limited access to most print resources held by the Library. To access short loan and other print resources in 2021, you will have to send an email request to the Library Circulation Desk; or directly to j.nene@ru.ac.za or n.fumbatha@ru.ac.za, in advance, and collect your items on the assigned opening days.
Opening hours
View the new opening hours in 2021 or visit our Library website. These hours are subject to change at any time. Variations in Library hours, due to specific regulations, Public Holidays and extended times during the examinations, are posted at the main entrance and on the Library's webpage, social media and e-mail.
The loan schedule of the Main Library is as follows:
Undergraduates: 6 items for 2 weeks.
Postgraduates: 12 items for 4 weeks
Senior postgraduates: 20 items for 8 weeks
Academic staff, Research staff, Support staff and Post-doctoral scholars: 30 items for 12 weeks
Community members: 6 items for 2 weeks up to 3 months
Visiting scholars: 20 items for 8 weeks or more than 3 months
Lending rules
A borrower is responsible for returning any loaned item/s by the due date. Items which are retained for longer than the stipulated loan period are subject to fines. The University requires all categories of users to pay such fines. No item may be transferred to any other person.
Items which are lost or damaged must be paid for or replaced.
The Director: Library Services may at his/her discretion restrict the loan period of any item or refuse its loan altogether.
An item on loan may be recalled at any time.
Access to Electronic resources
We encourage users to make use of our e-Resources which are accessibly online remotely where there is Internet access. Access to electronic collections is available from the Library's web page: for current Rhodes University staff and registered students. Community members are limited to on-site access only as a significant portion of e-Resources is subject to terms and conditions stipulated in license agreements. Community members who need access to subscription-based resources must contact the Circulation Desk. Here you will find eBooks via the Rhodes Library. You can also search our online scholarly databases by using the AtoZ list or search by a particular subject field Note that some of the most authoritative e-Journals and databases like Science Direct, Web of Science, Ebscohost, etc. are multidisciplinary in nature.
Library Facilities and Venues
Located on Level 2 in the Main Library, the Research Commons is a dedicated space for academic staff, researchers and senior post-graduate (Master's and Doctoral) students. A valid Rhodes University ID card is required to gain access to this area. Find more information on research support.
Located on Level 0, the PGC is a dedicated space for academic staff, researchers and postgraduate (Honours, Masters and Doctoral) students. A valid Rhodes University ID card is required to gain access to this area. For more information on Postgraduate Support click here.
Located on Level 2 in the Main Library, the IC is a dedicated space for undergraduate students, accessible during Library operating hours, with differentiated learning spaces, 56 PCs and a dedicated Information Literacy Coordinator available during Library hours. You can access the new student libguide here.
This facility is available to all registered students. A valid Rhodes University ID card is required to access the facility from Monday-Friday (08h00 - 20h00).
Cory Library for Humanities Research
Cory Library collects archival and published material to support research in the humanities and social sciences. Its book, journal and archival holdings are particularly strong in the fields of Eastern Cape history, heritage and culture, mission and church history, family history, and various southern African topics, including politics, literature, education, mining, commerce and agriculture. Since the initial deposit of Sir George Cory's collections, there has been a focus on the history of the Eastern Cape and on Grahamstown itself. Cory Library's collections include manuscripts and other documents, Cape and other government publications, rare and modern books, pamphlets, periodicals and newspapers, maps, photographs, audio-visual recordings, and electronic media. Through its book publishing programme (the Graham's Town Series, Eastern Cape Themes, and Eastern Cape Reprints), Cory Library contributes to the intellectual and academic culture of the University.
Access
Cory Library is a non-circulating library. It is open to students and staff of Rhodes University in the first instance. Members of the wider research community and the public are welcome to buy readers' tickets to do research in this library. The Cory Library is open between 09:00 and 12:00 from Mondays to Fridays for a limited number of users under the Covid-19 level 3 lockdown protocols. To contact Cory Library use the following email address: cory@ru.ac.za or email c.thomas@ru.ac.za or v.nhanha@ru.ac.za
Orientation and Training
Orientation and library use during O-week.
Tutorials on using the Library's online catalogue (OPAC) see Online Tutorials and Videos
Customised research database workshops.
Libguides (online guides) to finding, using and evaluating information on specific subjects.
Systematic reviews, etc.
Learning cannot be confined within the walls of the lecture room or laboratory, the Library enhances your learning and research experience as a student, academic, researcher or a member of the local community. For orientation and training needs, consult your Faculty Librarians as follows:
Faculty of Science and Pharmacy: Ms Thandiwe Menze: @ 046 603 8689 or v.menze@ru.ac.za.
Faculty of Humanities and Education: Ms Linda Cartwright @ 046 603 7341 or l.cartwright@ru.ac.za
Faculty of Commerce and Law: Ms Jill Otto @ 046 603 8062 or j.otto@ru.ac.za.
The New Student/Staff Guide will familiarize you with most library services. Always remember to visit our gateway, the library website at www.ru.ac.za/library.
Source: Library Management
Please help us to raise funds so that we can give all our students a chance to access online teaching and learning. Covid-19 has disrupted our students' education. Don't let the digital divide put their future at risk. Visit www.ru.ac.za/rucoronavirusgateway to donate