Mathias Chirombo
As an artist born into a family of Shona culture his work is spiritually influenced by spirit mediums and customs. Mathias seeks to explore this through dreams which are a rich source of inspiration for his art making, using spirituality and emotions to direct him in the search for meaning and guidance.
With the help of scholarships and sponsorship from cricketer Peter Roebuck's (LBW) Trust, Mathias has earned his university degree, (BFA and is now doing Masters in Anthropology) and has found a unique way to return the generosity shown to him. He has pledged to donate two paintings a year to Rhodes for the next ten years, and would like the proceeds to be used for bursaries. At the end of their studies, Mathias would like the recipient to assist Alumni House in finding ways to continue fundraising and offer support in any way.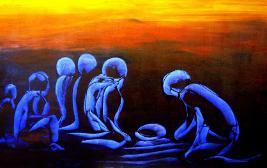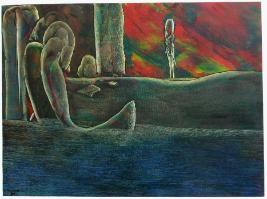 In 2012 the above two paintings were sold through a silent auction by Rhodes Trust UK at the Africa Calling Event hosted at Shaka Zulu in London on 19 November 2012. The auction of the paintings managed to raise R20 000 which will go towards bursaries for financially struggling undergraduate students.
This year the two below paintings are being auctioned at the Johannesburg Gala Fundraiser on the 7th November.
Mum at the sea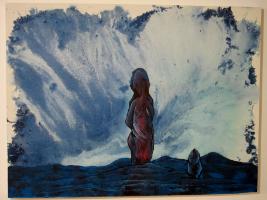 Rising of the ancestors III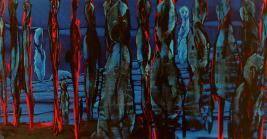 ‌
‌
‌
Last Modified: Fri, 11 May 2018 11:02:30 SAST