Give5 2016
Rhodes students raising money from fellow students for students!
The 2016 give5 week will officially start on the 7th March until the 13th March. Give5 is an Annual Fund fundraising campaign run by students to raise money for fellow students. The beneficiary for give5 can be for any project that the committee members decide on. For the last three years the committee has chosen the Pocket Money Fund which helps students who might be on bursaries, but do not have any extra money to buy essentials at the end of the month.
READ HERE FOR IDEAS ON FUNDRAISING EVENTS
Meet the 2016 give5 Committee Members
Ancha Bulunga - Chair - g13b4160@campus.ru.ac.za
Gorata Chengeta - Vice-Chair - g12c3649@campus.ru.ac.za
Eshlin Vedan - Sponsorship - g14v3090@campus.ru.ac.za
Khanyisani Kubheka - Treasurer - g12k1685@campus.ru.ac.za
Phiwokuhle Dhlamini - Media - g14d4457@campus.ru.ac.za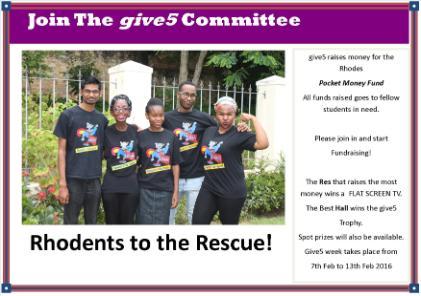 The success of give5 relies on the Senior Student and Community Engagement Representative from each Residence, including the Oppidans, to collaborate and involve the rest of the students in their fundraising drives. Every year we have 100% participation from our Residences and this is why the Campaign is so successful.
The one week campaign is intense and last year Dingemans just beat Botha House and won the Flatscreen TV which was sponsored by Pick n Pay. Hobson Hall received the give5 Trophy. An overall amount of R75 000 was raised by students last year asking for R5 coins!
Give R5 get a sticker - give R10 and get a pen - give R15 and get a key-ring - give R20 and get a wrist band and anything over R25 you get a sticky notebook set.
give5 Fire Walk
We will be holding the Fire Walk on the 11th March where students and staff walk over 5m of red hot coals to raise further funds for their fellow students. Please contact t.mccarthy@ru.ac.za if you would like to sign up for the Fire Walk. The Fire Walk represents a set of techniques where the person consciously switches off the motional component of pain and the ability to communicate with yourself in a way that promotes action in spite of past fears and limiting beliefs.
Please have a look at last years FIRE WALK YOUTUBE and sign up today!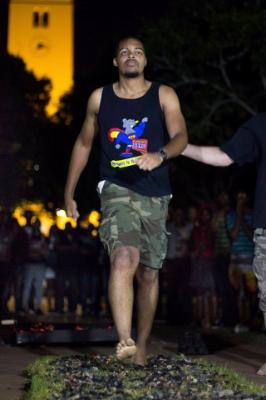 Sponsors
Pick & Pay Grahamstown – Flat Screen TV
1st Gear Motorbike Riding School - 1 x Scooter Lesson @ R 250
Andronikis Manufacturing Jeweller - Clubs & Societies Floating Trophy
Cadar 6x Caps
C M Heunis Building Contractors - R 5 100 cash
Connocks Butchery – Venison Wors
Dupliprint- 4x R250 vouchers
Debonairs - vouchers
Dr Davies Optometrists
Earth Produce– weekly vegetable donation
Anonymous Student
– Rugby Ball signed by Bismark Du Plessis
– Poster signed by French Canadian band Simple Plan
Anonymous Student – R 500 cash
Foto First – 1 x R150 voucher
High Corner Guesthouse 2 night's stay for our Fire Walk Instructor
Hi Tec – R 500 cash
Red Bull product
Revelations - 4 x R50 vouchers
Salon Tippin – 1 x Ladies (R 170) and 1 x Men's R90) Cut vouchers
Sound & Light Hire
T Birch & CO Ltd– R 1 000
The Beauty Room – 2 x R100 vouchers
Tranquil Spirit – 2x R 180 vouchers
Van Schaik – x 4 R 500 vouchers
Xtreme Embroidery, Screen Printing & Active Wear – Memorabilia
Last Modified: Fri, 11 May 2018 11:34:35 SAST