2000 to 2010
Lindiwe Dube (2000)
Left Rhodes in 2000. Moved to Toronto, Canada in 2001
Submitted: June 2011
Verushka Chetty (2000)
Graduated in 2004, completed Hons in Biotechnology, and is currently a Master's of Public Health student at University of Pretoria.
Submitted: March 2010
Pieter Gideion De Villiers (2000)
Pieter is now living in Stellenbosch.
Kanina Foss (2000)
Winner of the Mondi Shanduka Newspaper Award, along with her colleague, Alex Eliseev, in the hard news category for a story about an eight-year-old boy who was kept captive by his father. Secret boy's weird world was published in the Johannesburg daily, The Star, where Foss now works.
Source: Grocotts Mail, Friday 8 May 2009, p2
Alison Green (2000)
Alison Green is trained in performance. She now freelances in the arts in Joburg in teaching, writing, directing and performance. Writing is her passion and she considers herself lucky to be surrounded by individuals and writers who encourage her to continue her craft.
"Sharing your work is often terrifying, and having support for that is vital to keep writing," she says. Her latest work can be found in the Botsotso anthology Sections of Six.
Source: Star, Tonight, Tuesday 12 January 2009 page 11
Christopher Mackenzie (2000)
Chris is a chartered geologist and is the Chief Operating Officer Helio Resource Corp.
Andrew McCarter (2000)
Andrew lives in Johannesburg, where he is a Business Analyst for FNB Online Banking. He still plays a lot of guitar, although currently not for a band.
Submitted: November 2009
Caryn McNamara (2000)
Finished studying at Rhodes in 2006 and worked at Rhodes until 2010. Caryn now lives in Johannesburg, and still manages to find time for scuba diving despite being far from the coast.
Submitted: May 2011
Daniel Munslow (2000)
Left Rhodes 2003. Started career in radio and television before moving into corporate in 2006. Currently runs a communication consultancy and serve as the Principal Consultant to a global recruitment firm. Is also the Africa chairperson of the IABC (International Association of Business Communicators), and am a member of the International Executive Board for the IABC.
Stanley Ngungu (2000)
Working in Capital Market and can assist students in research in this field.
Submitted: October 2010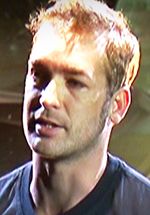 Gregory Parvess (2000)
Born and raised in Cape Town, Greg has always wanted to pursue an acting career. He studied drama and psychology and has acted in TV commercials, an international mini-series and has worked as a presenter. Greg competed in Class Act on SABC1 and was voted off only after the final five. We are looking forward to see what his new project will be.
Submitted: May 2010
Derrick Simpson (2000)
I left Rhodes in 2002 and have been in the UK since then. I now live and work in London and got married last year to Jill Craigie (from Aberdeen, Scotland). I have fond memories of staying in De Beers House and playing cricket on "the ramp".
Submitted: April 2011
Timothy Riordan Stones (2000)
After completing the PgDip Journ in 2006, I worked for 6 years as Researcher with the National Institute for the Deaf, in Worcester. I subsequently was employed by Rhodes as Disability Advisor. I am currently Senior Sub Editor with Times Media, based with the Daily Dispatch.
Outside work, my wife and I have two fantastic sons. I am a Candidate Minister with the Presbyterian Church, and remain active in sport. I was fortunate to have the opportunity to compete at the World Deaf Athletics Champs and the Deaflympics (in the marathon), in 2008 and 2009. Last year, in my current role as President of the South African Deaf Rugby Union, we hosted the first ever official Deaf Rugby Test series on SA soil - a two-Test series against world champions Wales. Currently we are building towards next year's Deaf Rugby World Championship, in Wales, in which we hope to take part.
Kirstin Scholtz (2000)
Kirstin Scholtz is 27, and has got one of the coolest jobs in the world. Originally from Cape Town, the talented photojournalist is now based in Australia and travels the world taking pictures of the world's best surfers.
Source: SALTWATER GIRL 01 Dec 2008 Page 35


Daisy Spencer (2000)
A CUT ABOVE THE REST
Earlier this year Daisy Spencer was given the challenge to choreograph the Unilever Young Performers' Project School of Rock SA, at the Sneddon Theatre. Widely acclaimed, the musical was one of her "finest moments". At just 26, Spencer is already embracing most of the theatre fields - from straight acting to musicals, physical theatre, choreography and directing.
Source: DAILY NEWS, Tonight 25 Nov 2008 Page 1
Mamello Thinyane (2000)
A team from South Africa has won the TIM (Telecom Italia Mobile) Operator's Award in the Gemalto SIMagine Developer Contest at the Mobile World Congress (MWC) in Barcelona, Spain for their concept, iCanSee which is based on providing the visually-impaired community with improved cellphone functionality. The team consists of Dr Hannah Thinyane, a Computer Science lecturer at Rhodes University, and Mamello Thinyane, lecturer and research coordinator at Rhodes University and the University of Fort Hare. It is the second year that the two South African developers have reached the final levels of the contest. In 2008 they also walked away with the TIM Prize for their integrated communication and access infrastructure, Mobi-Campus, while Mamello Thinyane and colleagues won the MTN Operator Award for their mobile solution SIMPre in 2007.
Full Story: Local Team capture's operator's SIMagination
Gillian (Atkinson) van der Byl (2000)
Gillian left Rhodes in 2003, completed her pharmacy internship and community service in the Eastern Cape. She is currently in 5th year medicine at Wits University and hopes to move back to East London in 2011 for her internship. Gillian got married this year.
Submitted: November 2009
Dominic White (2000)
Dominic left Rhodes in 2005, and is currently consulting in Johannesburg, in the field of IT security since (as of 2009). He got married this year to fellow Rhodent Daniela Faris(2002)
Submitted: November 2009
Charlene Yared (2000)
Charlene is now living in Cape Town – works as a freelance magazine journalist.
Susan (Anyangu) Amu (2001)
Susan left Rhodes in 2003, worked with the Standard Media Group in Nairobi, Kenya for four years. She then moved to Inter Press Service (IPS) Africa as their East Africa correspondent for a year. Susan left IPS to join World Vision, where she worked with World Vision for 5 years in Kenya, East Africa Regional Office and Sudan. She recently left World Vision and now works for the Young African Leadership Initiative (YALI) Regional Leadership Center in East Africa. She is married with 2 children ages 10 and 5.
Submitted: September 2015
Nicholas Barr (2001)
Graduated from Rhodes in 2004, with a BSc(inf Sys). Is currently based in Cape Town, working for British American Tobacco as Area Brand Manager for the Southern Africa Markets.
Submitted: 2013
Bradley Chetty (2001)
Left Rhodes in 2005, and worked in the US for a year and is currently in Cape Town working as a SharePoint Architect/Application Developer.
Submitted: August 2011
Vhukuzenzele (Chikwature) Dombodzvuki (2001)
Msses Rhodes But does not regret moving on. It was a lot of fun and drama.
Dylan Gareth Griffiths (2001)
Dylan completed his B.Acc in 2004, he is living in the United Kingdom and is engaged to Natalia Swidzinska.
Submitted: December 2013
Nicola Leigh Kane (2001)

Left Rhodes in 2004 and very soon there after moved to London. Having done a BJourn Nicola landed up working in media relations. She is now Press Officer for The Royal Society, the UK's independent science academy which celebrates its 350th anniversary in 2010.
Submitted: July 2010
Sizakele Khumalo (2001)
South African Express recently appointed Sizakele Khumalo as its new commercial strategy manager. She graduated from Rhodes University with a degree in Economics and straight afterwards was employed at Comair. Getting the job was actually largely due to a graduate placement project. The project was based on the airline industry and she had to research the possibilities for low-cost carriers. An insightful and well-researched project secured her the job.
Source: INDWE 01 Jan 2009 Page 24 and 25
Sibonelo Mbanjwa (2001)

I went to Rhodes as a Junior Researcher in 2000, and enrolled for M.Ed EE in 2001 and completed it in 2002. I came back for MBA in 2008 which I completed in 2010. I felt Rhodes to join Gauteng Provincial Government in 2002, and later joined North West Province and Northern Cape working in the field of Environmental Impact Assessment. I got married in 2002, and not based in Centurion, Gauteng with my family.
Fadzai Munyaradzi (2001)
Fadzai left Rhodes at the end of 2004, and is currently living in Cape Town where he works as an economic development consultant.
Submitted: November 2009
Nishanth Murthy (2001)
He completed his MBChB after an Information Systems degree from Rhodes in 2003. He is still reading, still learning, hoping to specialize in the near future.
Submitted November 2009
Kenneth Ndlovu (2001)
He left Rhodes in 2002 and rejoined the Geological Survey and Mines (Swaziland), he got promoted to be a Senior Geologist in 2008 up to the present moment
Submitted: March 2014
Monde Nyila (2001)
Monde graduated at Rhodes (Environmental Biotechnology) during the autumn graduation ceremony in 2002.

He has recently graduated with a PhD in Plant Science at the University of Pretoria on 7 April 2011 and is presently a Senior Lecturer at Unisa in the Department of Life and Consumer Sciences.
Submitted: June 2011
Imran Patel (2001)
Imran was a student at Rhodes University from 2001 to 2004, having completed a BCom and BCom (Honours). He resided in Kimberley Hall, more specifically De Beers House. He has moved to Johannesburg and has been there since 2005.
Submitted: November 2009
Tamaryn Titcombe (2001)
Living and working in London and is studying towards her PGCE and MA degree.
Submitted: November 2009
Sandra Nyarenda (2001)
Was at Rhodes from 2001 to 2004 and studied Bachelor of Social Science (hons). Currently in Johannesburg working as a Recruitment Consultant in the IT industry. You can find Sandra on Linked In.
Submitted February 2011
Stewart Doma (2002)
He left Rhodes in 2005. Has lived and worked in Toronto since 2006. He is a huge outdoor fanatic (snowboard, camp, rock climbing, canoeing, golf) - anything that keep him moving.
Submitted: December 2013
Caroline John (2002)
Left Rhodes in 2006 and now live in Bryanston, Johannesburg with her boyfriend Brett Rheeder (2001)
Submitted: December 2009
Andrew Garlick (2002)

My final year at Rhodes was in 2005 after achieving an Honours Degree in English literature. I worked in South Africa for two years before moving to England where I have been ever since. I currently work in the visual effects industry at Shepperton Studios working on really interesting movies and even getting to shake hands with some minor and major celebrities.
Lauren (Knoetze) Hibbit (2002)
Left Rhodes in 2005, did her teaching diploma in Johannesburg and now lives and works in Johannesburg for an Image Library. Lauren married Nicholas Hibbit in September 2011.
Nathan Rose (2002)
Lleft Rhodes in 2006, carried out a DPhil at Oxford University, completed in 2009, and is now a Junior Research Fellow in Biochemistry at St John's College, Oxford.
Submitted: 2011
Linda Schonknecht (2002) and Michael Markovina (2004)
Michael who is involved in seafaring expeditions and fisheries compliance, and photographer Linda set off from Cape Town in April 2008 on a two-year odyssey that took them to 42 countries to raise awareness about marine conservation. The research they've collected will be used to educate the marine conservation industry, government and society on the state of the marine habitat. They are also planning on publishing children's books and a recipe book.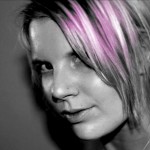 ‌
Visit their blog on: http://www.marine-expedition.co.za/
Jonathan Small (2002)
Jonathan left Rhodes in 2007 after completing an LLM. He is currently working in Bryanston, Johanneburg. He is married to Sharon Small.
Submitted: November 2009
Bevan Lynch (2002)
Bevan grew up in East London. He went to Crewe Primary and then to Stirling High. He was in the provincial swimming and waterpolo teams and played in the National Jazz Band as adjudicated by SA's top Jazz Musicians. He also performed on stage in theatrical productions whilst residing in East London.
Bevan then moved onto study at Rhodes University in Grahamstown. He studied a BSC and then a BCOM with majors in Accounting and Psychology graduating in 2005 with distinction in Psychology. Whilst at University he was heavily involved in the management of the men's residence Botha House on campus and in his penultimate year was elected Senior Student followed by Sub Warden in his final year.
As far as extracurricular activities go, he played in the University Jazz band, sang in the University Choir, played in the University waterpolo team and then started participating in triathlons under Rhodes colours. In addition to all these activities, he was the front man of a great alternative rock band called THUSfar which went on to record two albums, release a music video that is still aired on channel MK on DSTV in South Africa and Africa and has also performed alongside some of South Africa's greatest rockers. Holiday work whilst at Varsity was with the motor manufacturer Daimler Chrysler in East London in their HR department.
In 2006, he started work at Unilever in SA in Durban. Initially he started in the HR department, after 13 months he requested a move to marketing and has loved being in this industry ever since. Before leaving Unilever he had the opportunity to work with brands such as JOKO, GLEN, LIPTON, SKIP and SUNLIGHT. He is currently the brand manager at Nature's Choice Products – www.natureschoiceproducts.co.za .
Part time he does voice overs for TV and radio and MC events and has had clients such as Unilever, Ponds, Nandos, Elizabeth Arden, Magnum Ice Cream, Supersport (sports channel). In recent times he has also been given the opportunity to train at East Coast Radio to be a DJ – he is started by doing the grave yard shift.
Bevan enjoys playing the guitar, cycling, running, swimming and doing triathlons.
Bevan has a little design agency with two partners called retrosneakerrevival (www.retrosneakerrevival.com) – he designs logo's and websites.
Submitted November 2009
Chris Felgate (2002)
Olympic Triathlete Chris has been very busy since the Olympics. He took part in the BSG Energade Series at the end of 2008 and was very happy with his 4th overall result. This Series consisted of 7 gruelling races over 4 Provinces in South Africa. After a Christmas break, Chris took part in the Western Australian State Aquathlon Champs taking to the shark infested Western Australian waters and narrowly being beaten in the final sprint. In 2009 he came 3rd in the All Africa Triathlon Champs. He is working part time for Business Systems Group (BSG) as the BSG Elite Triathlon team manager (and athlete), as well as running corporate health and triathlon development programs for BSG.
Source: http://www.chrisfelgate.com/blog/western-australian-sate-aquathlon-champs
Jessica Kew (2002)
Jessica has been appointed as the new park manager at Lory Park. After obtaining her bachelor's degree Jessica travelled between the UK and the United States where she worked and gained experience in various zoos and aquatic institutions. She also spent a year working in a busy veterinary hospital in London before returning to South Africa and will now take over the general operation of the park.
Source: Midrand Reporter, Friday,24 April,p.10
Joseph Niven (2002)
English Department - lives on campus at Hilton College.
Sylvia Ntombfuthi Ntshingila (2002)
Post-graduate in media and journalism, Futhi has not only had her first book Shameless published, she also has a job in the President's speech-writing unit. Futhi has started to write her second novel and her personal motto is, "live the life you want to and enjoy it. But always remember to keep it simple"
Shameless is about Thandiwe who shamelessly sells her body on the streets of Yeoville and views her job as no different from those of young black graduates who take up affirmative action posts as perpetual juniors under soul-destroying mentors.

Source: My Week (Maritzburg) 01 Dec 2008, Page:27
Roseleen Nzioka (2002)
Roseleen graduated from Rhodes 2006 with an MA; she previously worked with the UN-Habitat and also a local newspaper as Senior Online Editor. She is currently employed as a Consultant writer/Editor with the IFC/World Bank office in Nairobi, even though it is a short contract but she appreciates the opportunity to work with one of the Bretton Woods institutions.
Submitted: December 2014
Scott Sparrow (2002)
Recently honoured with two Fleur de Cap nominations for his contribution as an actor and a member of The Mechanicals who are a new group of passionate performers, he is playing two roles in Steven Berkoff's Decadence, a risque' story of love and obsession.
Source: http://www.writingstudio.co.za/page2546.html
Michael Corrie Peter Von Bormann (2002)
Is currently a rescue swimmer in the United States Coast Guard (his mother was American and his father was South African). The official title is Aviation Survival technician which makes it sound a lot more intense/ fancy then it really is. He operates out of a HH-65 Dolphin helicopter and has worked in Alaska, Puerto Rico and the Pacific Northwest. The job flows between boring and rewardingly intense
Submitted: May 2014
Kevin Allen (2003)
Left Rhodes in 2006 and happily married and living in East London. "Pharm" "Kev" is currently working for Aspen Pharmacare
Submitted: July 2009
Ashleigh Chicksen (2003)
Ash was at Rhodes from 2003-2005 and majored in Anthro and Psych. She lives in Gauten and would like to contact people who left in 2005 that did the sam Major.
Submitted: September 2009
Verge Das Neves (2003)
Verge (Dassie) left Rhodes in 2006 after reading Journalism and Television. He currently works with Odgers Berndtson in their Johannesburg Office where he focuses on search assignments across a variety of sectors.
He also has a Masters in Business Administration from Oxford Brookes Business School (Oxon). Verge began his career as a journalist with The Sunday Times and has lived and worked in Japan, London and Johannesburg.
Submitted: 2013
Lolly (Lauren) Hills (2003)
Graduated with a Bachelor of Journalism in 2006, specialising in Communication Design and Sub editing. Lauren then worked in Johannesburg at Classic Fell magazine for a year and a half, before leaving for Dubai to become Assistant Editor of Middle East Architect Magazine. She has recently been made editor of BBC Good Food Middle East magazine, the Middle Eastern version of the UK original. The magazine is based in Dubai and it is one of the most prestigious food magazines in the Middle East. Lauren was asked to come on board to re-launch and oversee its redesign as Editor. Lauren said that Rhodes gave her a valuable foundation for her career as a journalist, especially in the combination of design and writing.
Submitted: July 2009
Ahmed Jazbhay (2003)
Ahmed left Rhodes in 2005. He completed his honours in 2006 at UKZN and Masters in 2008 at UKZN. He now works as an academic at UNISA in Pretoria.
Submitted: November 2009
Dominique Jones (2003)
Arrived at Rhodes in 2003, and graduated with a Bachelor of Education in 2006 in East London. Dom is now teaching Grade 1 locally and still enjoying it for the most part!
Submitted: May 2011
Connie (Kilila) Kisuke (2003)
Connie graduated from Rhodes in 2005 with a Masters degree in Journalism and Media Studies and worked in Nairobi for a private service company as head of department of communications and media relations. Connie also wrote and published a book in 2005, entitled Rape-A critical analysis. In 2007 Connie registered a business and set up a peri-urban ICT centre to facilitate information access to an otherwise info-impoverished community. The centre offers Internet access IT skills training and a bouquet of bureau services. In July 2009 the centre was identified and launched by the Ministry of Information & Communication as the first Digital Villages in the country. Connie has been contracted to write another book, this time a biography of a key theologian in Africa. She has been married since 1976 and they have three adult children. They live in Nairobi.
Submitted: November 2009
Terence Marais (2003)
Young classically-trained pianist, Terence Marais, makes his solo début at the Joburg Promusica Theatre on 15 and 16 November 2008, with an exciting program of piano music to inspire and enthral.
Source: WhatsOnSA, Nov 2008


Claire Martens (2003)
Left Rhodes in 2008, moved to Cape Town and has been exploring her options ever since. Claire hopes to study further next year.
Submitted: September 2010
Tiwonge Mkandawire (2003)
Has just graduated from UCT witha Master in Public Health (epidemology) and is now working as a Monitoring and Evaluation Officer with BroadReach Healthcare.
Submitted: January 2010
Amber Clair Naude (2003)
Amber was admitted as an Attorney and Conveyancer before the KwaZulu Natal High Court, Pietermaritzburg on 27 February 2009. She will be taking some time out now and will be doing some travelling.
Amie O'Connor (2003)
Finished her BA in History and English, as well as her PGCE at Rhodes in 2006. Amie moved to Cape Town to take up a position with a brands company in the IT department. Thereafter, she moved to Johannesburg following a promotion and now works within the business units in the same company, as a Business Process Analyst. Amie is a keen mountain biker and writer and enjoys exploring South Africa any time she can. Still in contact with friends from university days and will always look back with many fond memories at her time at Rhodes in Prince Alfred House.
Submitted: September 2010
Verashini Pillay (2003)
Moving to Johannesburg to work with the Mail and Guardian Online. M&G was the first website online and are overhauling their site so it will be an exciting time for Verashni.
Submitted: September 2009
Graeme Saggers (2003) and Stacey Leo (2003)
Cupid shot his arrow at these two when they met at Rhodes, culminating in Graeme proposing to Stacey on the 1st of February this year. They both live and work in Durban and we wish them all the best and happiness!
Source: South Coast Herald, Friday 20 February 2009, p. 26
Jeffrey Schultz (2003)
Left Rhodes in 2006 after completing his honours in Economics. Jeffrey then went off to do his masters at Stellenbosch University in 2007, before getting a job in 2008 at Absa Capital in Johannesburg as an economist.

Submitted: May 2011
Viwe Soga (2003)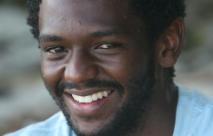 Viwe Soga
SABC 3's brand new show Flash! with all the latest info on anybody who's anybody in SA and abroad, will be co-presented by 26 year old Viwe Soga. In 2006 Viwe was named the 5th Best Orator in Africa at the 2006 African Human Rights Moot Court Competition which was held in Ethiopia. A sports lover, he also has a passion for writing and is currently busy with a collection of short stories.
Full Story: http://www.women24.com/Women24/TVGossip/SeriesAddicts/Article/0,,1-6-81_22121,00.html
Marcus Stelloh (2003)
Left Rhodes in 2007, worked in Johannesburg for two years at PWC and is working for Deloittes in Perth.
Submitted: October 2010
Jennifer Thorpe (2003)
Jennifer Thorpe is an author and feminist writer based in Cape Town.
Submitted: 2016
Marli Vlok (2003)
Marli left Rhodes in 2009 after completing her MSc degree in Microbiology. She moved to Vancouver where she is currently studying towards her PhD in Marine Virology at the University of British Columbia.
Submitted November 2009
Daniel Becker (2004)
Daniel left Rhodes in 2006. He moved to Cape Town and is now living the proverbial dream.
Submitted: November 2009
Londiwe Dhlomo (2004)
Durban's theatre stage has been set alight with her singing and dancing roles in musicals like The Wizard of Oz, Blondes on the Deck and Guys and Dolls. Londiwe would like to pursue a TV role and see her career grow, however her long term goal is to own a production company.
Full Story: http://196.14.40.211/gatec/Temp/11285780aaqgyrygalfhaze5nudumynl.pdf
Peter Edwards (2004)
I was at Rhodes from 2004-2007 and was in Matthews House from 2004-2006. Time of your life!!!
Pers com: August 2009
Kassandra e'Silva (2004), Greg Smith (2003), Matthew Gush (2003), Trevor Johnson (2003), Gareth Lloyd (2001)
Kassandra, Greg, Matthew, Trevor and Gareth were a member of a band called "Undone" comprised entirely of Rhodes students. They won the Grahamstown Battle of the Bands in 2006, and played at several of the biggest music festivals around South Africa. They have subsequently moved, as a band, to London and regrouped under the name "A Tower of Sheep". Their genre is a mingling of ska, rock, reggae, jazz and funk with a distinctly South African flair.
Mlungiseleli Ganto (2004)
Mlungiseleli studied at Rhodes between 2004 and 2008. He is now based in Pretoria and is a social golfer with a handicap of 18.
Submitted: September 2015
Dominic Gaobepe (2004)
Dominic graduated from Rhodes in 2006 with a Bachelor of Economics degree. He was at Rhodes on a scholarship and it completely changed the course of his life. He recently did a TV advert and is looking to develop in the broadcasting industry as well as to develop trainer and international speaker which has been a dream of his. He would like to share his story with other alumni. You can view his current commercial on the following link https://www.youtube.com/watch?v=hLjNkoWuyrQ
Hollard Legal Plan - 90 Seconds
Theresa Hayward (2004)
Theresa left Rhodes in 2007 and moved to Johannesburg where she worked at Summit TV as a producer before moving to Zoopy where she is currently a content producer.
Submitted: November 2009
Emma Holland (2004)
A research paper written in final year of LLB on Alexander McCall Smith's treatment of "African justice" in his novels will be published in Speculum Juris. She was co-editor of the 2008 In Camera. In September she will read for an LLM at Trinity College in Dublin, having won a Beit Scholorship. She plans to study international human rights and environmental law and to return to Zimbawe to contribute to the restoration of the legal system.
Full Story: http://196.14.40.211/gatec/Temp/11515002ggqjcei003e1tdrawlp3ql55.pdf
Joseph Hwata (2004)
Left Rhodes in 2008 and currently working in Witbank.
Submitted: February 2011
Siphokazi Magadla (2004)
Siphokazi Magadla, a former Rhodes University journalism student who is now completing her post-graduate studies at Ohio University, was in the heart of the action during this week's elections. She lives in Ohio, one of the battleground states which had swung Obama's way.
Source: Weekend Post November 2008
Full story: http://www.weekendpost.co.za/main/2008/11/08/news/nl06_08112008.htm
Michael Markovina (2004) and Linda Schonknecht (2002)
The Marine Resource Expedition is a South African initiative, run by two Rhodes University graduates, Michael Markovina (MSc Ichthyology and Fisheries Science) and Linda Schonknecht (Bachelor of Journalism and media studies). The cross-continent expedition starts and ends in Cape Town, South Africa. The route will cover 42 countries over approximately 22 months, focusing on Africa, Europe and Asia. To find out more go to: http://www.marine-expedition.co.za/
Dani-Maye Norton (2004)
Graduated from Rhodes at the end of 2006 after studying there for 3 years. In 2007 she moved to Cape Town to study the post-graduate diploma in Advertising and Marketing at Red and Yellow. Since completed Dani-Maye has been living in London. Currently employed as the HR Administrator for an interim recruitment firm in the City.
Submitted: July 2009
Rudi Seebach (2004)
Rudi is part of a team of environmental scientists, engineers and an economist appointed by Jeffares & Green (J&G). The unit is committed to helping companies analyse their environmental footprint by identifying the areas of most impact, and to advise on sustainable implementation strategies to maximise cost savings. Rudi holds a M.Sc in environmental Science and has over 10 years of professional work experience. He has recently been certified by SAATCA as a lead environmental auditor.
Jacqueline Spellas (2004)

Lleft Rhodes in 2009, moved back to Johannesburg. Is now the Head of Department Social Sciences at a private school in Johannesburg.
Submitted: May 2016
Shahina Suleman (2004)
Shy left Rhodes in December 2007...did a year of internship in Cape Town with Clicks Pharmacy Canal Walk...now back in Zambia to supposedly do community service...which we do not have here! Imao! so made to do 2 more years of internship..almost like a punishment for not having studied here!
Submitted: September 2009
Byron Truscott (2004)
Obtained his BSc, Honours and MSc in Chemistry at Rhodes, finishing in 2010 and taking up a PhD position at the University of St Andrews in Scotland.
Submitted: February 2011
Samaqocwa Yoyo (2004)
Sama is currently taking the acting world by storm in the Peoples Theatre production of Jack and the Beanstalk, a much loved fairytale featuring comedy, spectacular costumes and well-known songs. Since moving to Johannesburg in 2008, Sama has also been in various dramatic roles for radio station SAFM. This talented lady also plays the guitar because besides acting, her second passion is music.
Kerynn Dahl (2005)
The Johannesburg office of the DAAD (German Academic Exchange Service or Deutscher Akademischer Austaush Dienst) welcomes Kerynn who took up her post in February as administrative officer. Kerynn is a Rhodes University Honours graduate of German Studies and Journalism and she was previously a DAAD scholarship holder as well as an intern at the DAAD Information Centre Johannesburg.
Submitted: March 2009
Oludamola Durodola (2005)
Oludamola graduated from Rhodes in 2007, worked in South Africa for 7 years before moving to Canada. He has two kids and is currently a professor in Canada
Submitted: June 2014
Alan Foulis (2005)
Icthyology honours student, Alan spent six weeks on a research ship off the coast of Madagascar, studying different species of fish and collecting information for a gene data base. He was sent on behalf of the South African Institue for Aquatic Biodiversity (SAIAB)to collect samples for ASCLME - the Agulhas and Somali current large marine ecosystem project.
Source: Gonubie Bugle, Friday 5March 2010, p.10
Louise Gans (2005)
Louise left Rhodes at the end of 2007 and started working at a development bank in Durban. She decided banking was not for her and now works for a food manufacturer while working towards her CIMA.
Submitted: November 2009
Kutlwano Tshepiso Keebine (2005)
She graduated from Rhodes in 2009 and now lives and works in Gaborone, Botswana. "Such an awesome university"!
Submitted: April 2014
Claire Lowen (2005)
Claire finished up at Rhodes, worked for a few months and went off to New York and Ireland for a while. Came back and eventually started her own company in web and graphic design: http://www.imaginattic.net, her sister now attends Rhodes carrying on a bit of a family tradition
Submitted: June 2014
Bongolethu Maninjwa (2005)
Graduated in 2007 from Rhodes University, of which 3 years was spent as College House boy. After graduation he has been living and working in Johannesburg as Credit risk specialist. He has since gotten married, has one child (2 months old). Keen golfer (no handicap) and loves football!
Submitted: May 2014
Bongolethu (Manny) Maninjwa (2005)
Manny is in Joburg, working at Nedbank Limited.
Submitted: November 2009
Christopher McConnachie (2005)
‌

Rhodes-African Scholars
Christopher has recently taken up his Rhodes Scholarship at Oxford (Lincoln College) and writes very enthusiastically from Oxford: "The Rhodes Scholar community has been incredible in making us all feel welcome. They have provided all of us with an instant group of friends who are available to give advice and hints to make Oxford seem less confusing. We have played croquet on the Rhodes House lawns, had a bonfire in a park in the rain (nothing is cancelled because of the rain here!), went sightseeing at Windsor castle and have had many late-night discussions on everything from theology to quantum physics."

Lincoln Chapel
He also writes that: "I am on the Oxford Union squad to go to the World Debating Championships in Botswana.
Submitted: October 2010
Siphiwe Mgandela (2005)
Siphiwe left Rhodes in 2007 and has been working on the South Coast KZN for the past two years.
Submitted: November 2009
Spy Munthali (2005)
Left Rhodes in 2008 and returned to the University of Malawi as Head of Economics Department.
Submitted: March 2010
Aphindiwe (Aphie) Nofuya (2005)
Left Rhodes in 2008 and is now working for the IDC. She is the TOPP Trainee Accountant.
Submitted: July 2009
Boitumelo Ruth Sebopela (2005)
Currently our youngest alumni to have her book of Poems published! When the Sun Rises is an anthology of the author's thoughts and feelings concerning aspects of everday life. The author invites the reader into the sacred orifice of her heart and for the reader to join her in this journey. It is the author's wish that the reader will find something that speaks to them and even moves them. Another wish is for the reader to find hope in some of these works, hope that gets anew each day as the sun rises.

Published by New Voices Publishing, please e-mail alumni@ru.ac.za for details to buy the book.
Fallon Alice Welsh (2005)
Fallon Left Rhodes in 2008, worked as a Teacher in Brakpan, then worked in the USA for 6 months, moved back to Brakpan and Taught again. Now I am moving to China, Beijing to Teach.
Submitted: October 2015
Japhet Banda 2006
Jeff works for the International Labour Organization in the Lusaka Office. He is the National Programme Manager for Youth Employment.
Submitted: February 2010
Pamela Maseko (2006)
Lecturer in African language studies and co-ordinator of the South Africa- Norway Tertiary education Development (SANTED) Project at Rhodes, Pamela's home is in Cape Town with Pamela being a working Mom who travels at least twice a month . Her primary job is to implement the Rhodes University language policy and she lectures undergraduates and post graduate language courses. Pamela has a wonderful support system in her mother and sister, and her children look after each other . Pamela works with passion at work and as a mother, and says, "The secret to balancing work and home life is to work hard at both relationships".
Source: Destiny, Supplement, 01 March 2009 – page 10
Samuel Ndahangwapo (2006)
Studied at Rhodes from 2006 to 2007. Working in Working for PWC and residing in Windhoek. Married to my wonderful and beautiful wife, Klaudia. Serving the Lord Jesus Christ in my local church
Philani Ntuli (2006)
I graduated with a Rhodes B.Pharm in 2010. I am currently doing my Pharmaceutical Community Service at Nkandla Hospital in KZN.
Submitted: April 2011
Alice Rustico (2006)
Was at Rhodes in 2006, while completing her postgraduate diploma in International Studies. Currently living in Italy and works for one of the County's leading music promoters.
Submitted: October 2009
Zizi Sipondo (2006)
Left Rhodes in 2009 and is currently working for an Accounting firm in Sandton, and very much STILL single!!! Zizi goes to the Gym and loves reading.
Submitted: February 2011
Colin White (2007) and Erika van der Merwe (2006)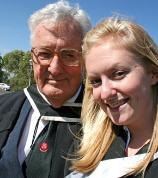 Retired high court judge and his 22 year old granddaughter made history when they both graduated with history degrees this year. Former acting judge president Colin White retired in 2003 and then hit the books to obtain his masters while Erika was awarded an honours degree. Erika said university friends looked at her "in awe" when she told them she was graduating along with her grandfather for history at the same time.
Source: Daily Dispatch, Monday 20 April 2009, p.3 - By David Macgregor
Phumelela Tracy Lukhele (2007)
Phumelela left Rhodes in 2012 with a BA Honours in Political Science and International Relations. She is currently working in Cape Town at the Department of Rural Development and Land Reform.
Submitted: February 2014
Qaqambile Mathentamo (2007)
In 2011 Qaqambile left Rhodes, which provided him with much confidence. He returned in 2012 to claim what is rightfully his. He got a year of experience in Kwa-Zulu Natal Provincial Treasury. After that, he struggled to secure employment hence he has ended up behind the desk furthering his academic aspirations. He would like to return one day as an Economics lecturer.
Submitted: April 2014
Noluthando Lushozi (2008)
Left Rhodes in 2010, and is currently doing her Info. Systems honours at Wits University.
Submitted: August 2011
Patrick Muchabaisa Zengeni (2008)
Left Rhodes in 2011 to join Open Box Software in Cape Town.
Submitted: November 2013
Bronwyn Lovegrove (2009)
Rotary International selected Bronwyn Lovegrove as their outbound Ambassadorial Scholar. Bronwyn completed her degree at Rhodes and now studies at Bremen University in Lower Saxony. Her scholarship was sponsored by District 1850 in Germany .Bronwyn majored in Politics, German and Economics. Says Bronwyn: "Throughout high school, as well as university I have chosen subjects that have interested me and as a result of this, I have always given my academic studies my all. I was selected to represent my high school and South Africa in a competitive maths conference in the Philippines and I matriculated in 2008 with five distinctions. I achieved gold in the English Olympiad in matric and I took advanced mathematics as an extra subject for close to three years. I have always had a clear vision of what I wanted to accomplish, especially by the time I first came to study at Rhodes and the subjects that I chose from my first year have always served some purpose in bettering my understanding of how people interact in the world and where I can position myself in order to help people who have lived a completely different and in many instances, more challenging life than myself".
Source: Rotary International District 9320, Daves Dispatch?
Christopher Maxwell (2009)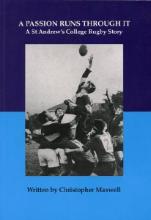 A Passion Runs Through it: A St Andrew's College Rugby Story is a story for any boy who dreams of pulling that 1st team rugby jersey over his head. It is for the boys of St Andrew's, past and present, who played rugby with pride and passion.
A Passion Runs Through it documents the origin of rugby at St Andrew's which played a big part in the origin of the sport in the Eastern Cape and South Africa.
Weaving through the years, it explores the developments made during its history whilst giving full praise to the times when 'College Rugby' was on a high.
Despite the many factual pointers, a large portion of the text is told through the voices of Old Andreans. Their words and stories of their time playing bring to life the story of rugby and are celebrated throughout the book.
The story not only looks at the rugby played as a whole but goes deep into some of the great players, teams, coaches and matches that have graced the school's fields. One of the more recent matches documented is the St Andrew's verses Grey High P.E. match played in 2005. It was a spectacular display of schoolboy rugby seen by those present on Lower field.
The schools standard of rugby is so often judged from the 1st team with no or little insight into the other teams. A Passion Runs Through it also ventures into the other teams who played well and showed the crowds that they were worth recognition. In the closing chapters the focus is turned to the boys of St Andrew's and zones in on those 'war-cries' heard from across Grahamstown.
There are 53 photographs of coaches, players, teams and of some of the key features in the St Andrew's rugby setup. However for those who are not avid St Andrew's followers, there is the early beginnings of the sport in South Africa as well as information on schools with a playing history against St Andrew's. This is for anyone who wants to know the St Andrew's rugby story.
To order the book please e-mail chris.reviresco@gmail.com
Kyle Frederick Tate (2009)
Rhodes university degree is one that employs you above others in South Africa and abroad. Having many established people come through the Arch it is great to have business contacts that can share the experiences and place you in the right positions.
Submitted: April 2014
John Vries (2009)
Left Rhodes in 2012. John works in Gibeon (a small town in the south of Namibia) as a high school teacher. He teaches History and Afrikaans.
Grant Hufkie (2010)
Grant left Rhodes in 2015, graduating with a Bachelor's Degree in Pharmacy (B.Pharm). He is currently completing my internship in 2016 at Clicks Pharmacy.
Matthieu Maralack (2010)
I left Rhodes in 2014. Am currently a Masters student at Wits University.
Last Modified: Wed, 24 Jan 2018 14:30:53 SAST