1920 to 1949
Lawrence Hamilton Shuttleworth (1933)
Graduated with a BCom at Rhodes in 1935, lectured at the Witwatersrand Technical College for three years, served in the SAAF 1939 to 1946, qualified as a Chartered Accountant in 1947 and practised in Kimberley. I married Claudia Harcourt-Baldwin in 1940. Their three children, Patricia, Anthony and Jennifer have married and live in North America.
Submitted: March 2010
Nicolette (Bodmer) Quekett (1936)
Recently published Columbines for Harold , is a biography of Nicolette's father from the early years of his life in Geneva, Canada, Cambridge and then Rhodes. She also embarks on her own life journey, from an idyllic childhood in South Africa, through the Second World War and finally to find home and happiness in Western Australia. Along the way she slowly unravels a mysterious family secret. Why did her father take his life at the peak of his career? The answer is both shocking and yet compelling.

Letters from China is a Westerner's experience of teaching English in deep, rural China in the critical years of the eighties and early nineties. These fascinating letters home were written by a woman who was alone in the depths of China during the turbulent year of the Tienanmen Square uprising. Nicolette, in the days before email, was cut off from official help and reliable information. Yet she was supported in her isolation by the friendship of her Chinese students and teaching colleagues, who are described with great affection. Their stories, and the meticulously recorded detail of daily life in China, with all its problems, frustrations and contradictions, bring the country and its people freshly before our eyes. Nicolette's is not the China of the sanitized conducted tour. It is the real China.

The Right Reverand Bill Bendyshe Burnett (1938)
The Rock that is Higher than I - The Autobiography of The Right Rev Bill Bendyshe Burnett
Edited by Andrew (1967) and Barbara (1967) Burnett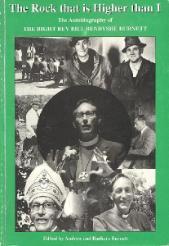 Born in the Orange Free State, Burnett became bilingual in English and Afrikaans and was schooled at Bishop's College in the Cape and at Michaelhouse in Natal before entering Rhodes University (1938). He taught for a short time in 1940 at Umtata before joining the South African Defence Force. He was captured in North Africa and became a PoW in Italy. He escaped and in 1944 came into the care of the British forces. The exigencies of war as they affected public worship kindled his dissatisfaction with denominationalism.
His ordination training was at St Paul's, Grahamstown, and he went as deacon in 1946 to St Thomas's, Durban. In 1950 he became Chaplain at Michaelhouse and there wrote Anglicans in Natal (1953). In its prologue he writes significantly: 'It was a divided church that eventually planted the gospel in southern Africa.'
He became Bishop of Bloemfontein in 1957 and led the work there for 10 years. His work with his episcopal colleagues, notably Robert Selby Taylor, who was to precede him as Archbishop, brought him into the debate about the future of the then Christian Council and decisions to take forward the church unity process. The change to the SACC was both geographical from Cape Town to Johannesburg, and also structural. Between 1967 and 1969 Burnett as General Secretary led the reconstruction.
It was close to the time when the influence of the World Council of Churches and the Programme to Combat Racism made public headlines. Burnett's contribution to the dialogue at home and overseas was important. But it was evident that his labours also brought great tension to one who was fundamentally a shepherd of souls. In 1969 his own church called him to become Bishop of Grahamstown and he readily accepted. He said: 'It was a relief to return to a real fellowship in Christ.'
Burnett had always been an outspoken critic of apartheid. What began at Bloemfontein, when he had spoken against the policy and doctrine of race separation, was carried forward in the five Grahamstown years. Always his critique and protest were based on his commitment to the word of God. Undoubtedly his continued devotion to scripture influenced his 1972 experience.
Just before his enthronement as Archbishop in 1974 Burnett took part in a great charismatic renewal campaign which swept across much of the Republic of South Africa. This marked the confluence of his zeal for ecumenism and pentacostalism. It is remarkable that these influences found root in a bishop of a province with deep formal traditions.
Many hopes were raised when in 1974 this indigenous bilingual bishop was called to Cape Town. It was a coming-of-age for South African Anglicanism. He was destined to be a forerunner of the time when another indigenous bishop, Desmond Tutu, would succeed to the throne. At his enthronement Burnett called for a new Pentecost. At that time South Africa was debating the problem of conscientious objection to national service. The SACC had published a resolution about the injustice involved. In the presence of the President and the military he gave the resolution his support knowing that he had himself taken a comparable stand as a young man. His passion steeped in ecumenism, charismatic renewal and traditional ecclesial faith was unmistakable.
Burnett's retirement in 1981 left him free to offer his services to the renewal movement. He had led the charismatic bishops at the Lambeth Conference of 1978. He travelled world-wide in the campaigns for renewal and established friendships with kindred evangelists. He edited their publication By My Spirit in 1988 and in 1993 his autobiography The Rock that is Higher than I was published.
David Brokensha (1940)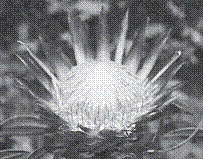 Brokie's Way: An Anthropologist's Story. Love and Work in Three Continents is an autobiography on David's fascinating life. In analysing why anybody would want to read his life story, David wrote an introduction in answer:
" I have tried to analyse how my four main identities affected my life and also how they have changed over time. The first two identities are "ascribed", in that I was born with them - being a white South African, and being gay. The other two identities - being a Catholic, and being a social anthropologist - are "achieved", in that I deliberately assumed them.
David grew up in South Africa in the 1920s and 1930s. He spent three years during World War 2 as a prisoner of war, then studied at Universities in South Africa and England, followed by a period in the British Colonial Service in East Africa and in urban African administration in Rhodesia, followed by teaching and research at the Universities of Ghana and of California and several years of fieldwork in Kenya. For nearly fifty of his eighty-four years he shared his life with Bernard Riley. They retired to Britain in the 1990s, and finally moved back to the new South Africa. The book is a love story, as well as the story of their lives in three continents, Africa, North America and Europe.
Published by Amani Press, Fish Hoek. david@fishhoek.com © David Brokensha 2007 ISBN 978-0-620-39064-4
Brian (1940) and Mary (1946) Clarke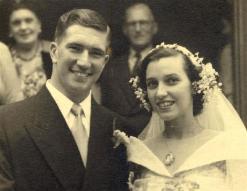 Brian and Mary on their wedding day
Love Blossomed at Rhodes
Sixty years on and still very much in love, Brian and Mary celebrated their 60th Wedding anniversary on Thursday 12 March 2009. The pair met in 1946 at Rhodes University. Brian was a World War 11 Serviceman returning to complete his degree and Mary a young freshette beginning her degree and three years later they were married. Based in Westville, they have lived in the same home for nearly 50 years, they have a large and devoted family and Brian says, "One of our greatest blessings has been our relationship with our loving family". Submitted by Lynley Clarke March 2009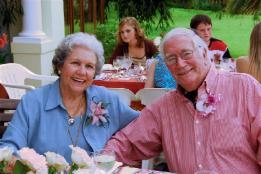 Brian and Mary on their 60th Anniversary
Prof Ian Gough (1940)
Currently living in Canada, Ian is a retired professor of physics and a researcher in Geophysics who discovered a taste for writing poetry during his last scientific field work in South Africa. With the encougagement and guidance of his sister Margaret, his wife Wendy and his daughter Catherine, Signing the Light was published by Trafford Publishing. ISBN 1-4120-9633-2.

Margaret Gough (1941)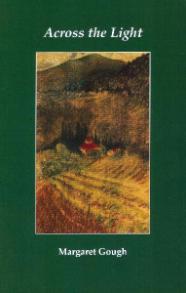 Across the Light
Award-winning Port Elizabeth poet, Margaret Gough, has written her second collection of poems called, Across the Light. She lived in Grahamstown for many years when her husband Steve Geldenhuys was headmaster of Graeme College. Margaret obtained her masters degree in Psychology and English at Rhodes and was also a member of staff in the English Department. She subsequently worked as a psychologist in Cape Town before returning to Port Elizabeth in the 1980's.
Dr Basil Charlston Ellis (1942)
His brief period at Rhodes consisted of 1st year medical BSc (Phys/Chem/Zoo/Bot) 1942. Others in his class: Thomas H Bothwell; Dudley Jacobs; John Cosnett. After the year he went into 2nd year Medicine at Wits Medical School and qualified MB BCh - a break of 1 year in the SANDF 1945.
Senior Lecturer: Dept Clinical Pathology, Wits: 4 yrs
Higher degree: D Clin Path (Anatomical Pathology, Medical Microbiology, Clinical Haematology, Clinical Chemistry)
Registered Pathologist:
Deputy Medical Director South African Blood Transfusion Service: 5 yr
Pathologist: Western Province Blood Trasfusion Service: 2 yr
Published and co-authored several Medical Scientific articles in international journals.(cp Haematology and Clinical Chemistry)
Private Pathology Practice - Port Elizabeth - 1963-1990: 27 yr
Principal Pathologist: South African Institute for Medical Research, and in the now National Health Laboratory Service - until 2004
Developed and had a special interest in interlaboratory quality control programs for Chemical Pathology. The NHLS had variably 20 peripheral laboratories that were incorprated into the programs.
Retired from NHLS after doing approx 5 years Fine-needle Aspiration Cytology (FNA) in Port Elizabeth - this discipline is primarily for Cancer Diagnosis - until he was 80 yrs.
Dr Ellis is now 85 yrs and two of his four children (Marguerite (Ellis) Hidden (1971) and Simon Ellis (1983) qualified BSc at Rhodes. In 1973 Dr Ellis became a member of the Rhodes Development Foundation.
Submitted: October 2009
Gideon van Niekerk (1943)
1943 - Matriculated at Pretoria boys High School and registered at Rhodes University College to study for a B.Sc
1944 - Attested in the UDF (SA Artillery) and saw action in Italy with the 6th SA Armoured Division in Italy to the end of the war.
1946 - Demobilised in early March and returned to Rhodes for the 1st term. Changed his course of studies from B.Sc to B.Com.
1951 - Graduated in absentia with a B.Com degree from Rhodes University.
Submitted: February 2011
Henry Blagden (1945)
Henry left Rhodes in 1947, did a PPE at Oxford, worked in sales for OUP/SA, and was then a librarian at a college. He has two children aged 37 and 40. He enjoys choral singing, walking, and summated Kilimanjaro at age 74.
submitted November 2009
Brian Ross (1945)
Living in Western Australia, he has published An Irish Nurse in Africa. This is a limited collector's edition of only 200 copies which is self-published and Brian has full copyright.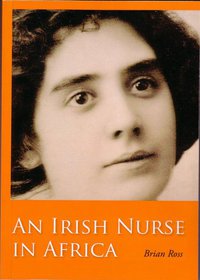 An Irish Nurse in Africa deals with the 2de Vreiheids Oorlog/Anglo -Boer war. The story is of an Irish nurse working in the Cape when she is pulled into the war. Unbeknown to her, her runaway brother has succeeded in business in the Orange Free State and fights for the Boers. The book will appeal for those interested in historical novels. Please see below the Synopsis and Poster Launch. The photograph shows Brian and his three daughters.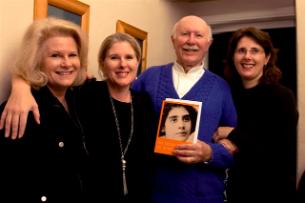 Brian Ross
Doreen Court (1946)
Succulent Flora of Southern Africa, first published in 1981 has long served as an authoritative botanical reference. This third edition takes into account intervening taxonomic advances and the discovery and naming of ever more species. A hands-on identification guide, it presents succulent species from eight families that are most often encountered in collections. Descriptions include the characters of the species and their distribution in southern Africa. Representatives of each group are illustrated in colour or with sketches and photographs in black and white. This updated work furthers the knowledge and study of these extraordinary, very specialised plants.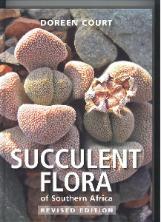 To order the book, please contact Kim at kimr@randomstruik.co.za
Beth Dickerson (1946)
Beth was born in 1928 in Lesotho and grew up in the Eastern Cape, but has lived in almost all the other provinces of South Africa at different times, and also in Zimbabwe. After leaving school Beth served in the Special Signals Services for a year, before taking her first degree at Rhodes. She had several spells in England where she studied and taught drama and English but, in 1966, returned to Grahamstown to establish the drama department at Rhodes University under Guy Butler. Besides teaching, she directed many plays during the next 27 years. Although the main focus of her working life was drama, Beth has always written short stories and poetry for which she has won a number of awards.
Being Here focus is generally clear: a single memory, a single landscape enjoyed, a single animal acutely observed. A few remember childhood or travel abroad, but most are of the Eastern Cape. Some are very short - both lines and poems - and the poet always seems to know exactly when and where to end them.

Arthur Humphrey (1947)
58 years ago Arthur left Rhodes and is still in touch with his Alma mater and his friends are astounded and impressed that Rhodes continues to maintain contact after all these years. Arthur lives in Australia and recently received a visit from Kit (Greyling) (1949) and Bill Mills (1947) who were at Rhodes with him.
Submitted May 2009
Professor William A. Little (1948)
Prof Little has received an award from the Cryogenic Engineering community in the USA and it has recently been published in Advances in Cryogenic Engineering. It refers to the work he did at Rhodes in Physics for his PHD. Please see pdf document for full article Prof Little
Prof Little also sent news of his sister Rosemary Venter (1947) married to Neil Venter (1946) who are living in New Zealand and of Michael Little (1945) who has recently celebrated his birthday and is living in Noosa, Queensland.
Submitted March 2009
‌Victor Bredenkamp (1949)
Retired from academic life and living in KZN, Victor has directed the District Adult Literacy Project for the past 15 years raising more than $600,000 with the help of his wife who has been his right-hand person over many years. The Rotary Club of Pietermaritzburg recently held a special presentation to honour him and his wife, Marie.
Source: Maritzburg Sun, Friday 6 March, p.6
Sir Michael Edwardes (1949)
In 1937, it took three hours for the journey from Port Elizabeth to the Kromme River, not to mention the 57 farm gates seven year old Michael had to open and close. Nowadays, although based in the United Kingdom, Michael and his wife Sheila still enjoy coming to their home in St Francis Bay as often as possible. He went to St Andrews College and at Rhodes University he played rugby for the first team. He started his career at Excide Batteries in Salisbury, Rhodesia, establishing factories for the company there and in Zambia. His career then took him to London in the United Kingdom. Through his work and dealings with the unions, he was offered a knighthood in 1978, which he refused. When, in 1979, he was offered the knighthood again, he realised he could not refuse a second time and he was knighted by Queen Elizabeth.
Full Story: Our Times, Friday, 10 April 2009, p.5
Thomas Harding (1949)
After leaving Rhodes in 1953 he was involved in agriculture in several parts of Africa, eventually ending up living in Pinetown for 30 years. Retired to Pennington in 1992.
Submitted: October 2010

John Lewis (1949)
At Rhodes 1949 - 1951. Botha House. Moved to England 1954, Spent 40 years in Germany. Now retired.
Would like to hear from anyone he knew at Rhodes.
johnm.lewis@yahoo.co
Last Modified: Mon, 21 May 2018 11:08:26 SAST