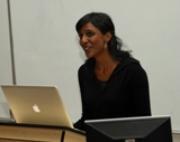 Talented alumni, Ms Natasha Joseph, Mr Stephen Grootes and Ms Verashni Pillay, are flying the Rhodes University flag high in the South African media industry. The three are among the top achievers recognised by The Media magazine under the banner: top 40 under 40s editors in South Africa.
Through the top 40 under 40s project, The Media magazine acknowledge the achievements of the most powerful and influential people under the age of 40 in the media industry.
According to the magazine, "there are few countries in the world where you would find so many young people with such influence over this industry. Hopefully, these youthful leaders are building the foundation for a solid and even more influential media that will withstand any threats".
'This has become a huge honour and motivation for the future editors, with comes with lots of hard work and talent.'
At the age of 28, Ms Joseph was the news editor of the Cape Argus. Her passion for working copy, brainstorming, ideas and planning with reporters landed her the position.
She also won the 2010 Women in the Media Rising Star award and was among the Mail & Guardian's 200 Young South Africans in 2011.
When Ms Ferial Haffajee took over as the editor of the City Press and was putting together her perfect team to take on a new market in 2012, she convinced diehard Capetonian Ms Joseph to leave her position as news editor at the Cape Argus and move to Gauteng.
"Natasha is possibly one of the finest news editors in the country," says Ms Haffajee. "She is a protégé and definitely a future editor."
Ms Joseph has not disappointed and is an excellent newsroom leader who ensures her team brings only the best news and writing to the newspaper.
Ms Pillay is also making a huge progress in the new media arena. Within a month of being employed as an online journalist at the Mail & Guardian in 2009, she was promoted to managing editor. One year later she became the deputy editor.
She has overseen more than 30% growth on the website in the three years of managing it.
She implemented a host of new online projects, like online offerings to complement the newspaper flagships and a blogging site aimed at women readers.
"Verashni is animated by the idea that we do better journalism through social media and high levels of engagement with … the audience," says M&G editor Nic Dawes. "Marry that attitude to strong commitment to social justice and you have the kind of digital news practitioner South Africa needs right now."
She directed multi-media video that won the 2012 CNN Africa Journalism digital award.
Talk Radio 702 and 567 CapeTalk presenter, EWN senior political journalist and contributing editor, age 37, Rhodes University Alumnus, Mr Grootes is one of South Africa's pre-eminent political journalists.
In September 2012, this multi-award-winner took over as host of the Midday Report on Talk Radio 702 and 567 CapeTalk from broadcast veteran Chris Gibbons.
Mr Grootes has excelled in hosting this interactive show that looks at the big news and political issues of the day.
Primedia Broadcasting Group news and current affairs head Yusuf Abramjee says, "Stephen is a dynamic, seasoned journalist who understands radio news. He is an all-rounder with outstanding talent and flair. He is an award-winning reporter who has an exciting career ahead of him."
Mr Grootes celebrated a decade with Eyewitness News in 2012 when he was also appointed contributing editor to Business Day, for which he writes a regular column.
Source: The Media magazine online
Photo by: Ross Shackleton
Source: The Media Magazine
Please help us to raise funds so that we can give all our students a chance to access online teaching and learning. Covid-19 has disrupted our students' education. Don't let the digital divide put their future at risk. Visit www.ru.ac.za/rucoronavirusgateway to donate