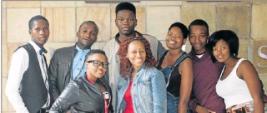 Gives up city life and good job to help pupils find bursaries
By DAVID MACGREGOR Senior Reporter
SINCE she started helping matriculants two years ago to fill in forms and apply for bursaries, Pumla Stuurman has seen eight students into university.
This year alone, the former banking executive has helped six students get into Rhodes University by mentoring and inspiring them to dream big.
Vice-chancellor Dr Sizwe Mabizela praised Stuurman for her "heightened social consciousness and commitment to enriching the lives of those who are, in material terms, less advantaged".
Stuurman's life changed in January 2014 when she visited family in East London and noticed how students fell through the cracks by only applying for university courses after they got their matric results instead of before they finished school.
She said late applications meant students were accepted into courses that had space instead of ones they were passionate about.
"They were making wrong career choices due to lack of planning and information and, most important, not knowing where to access funding to further their studies."
Realising she could help, Stuurman started regularly visiting Tsholomqa High School in Chalumna from her Johannesburg base at her own expense.
"It was financially draining me," she said. But instead of giving up on the pupils, she gave up her job and moved home to set up a free education support programme in December 2014.
Group sessions were started at the school to identify talent and nurture confidence.
"I could not motivate them without getting to know them and building trust."
She soon realised the students had the potential to be whatever they wanted if guided properly.
"They just need people who believe in them, people who will bring the positive in negative situations they were experiencing.
"I gave them love, which no money can buy. I became their sister, cried with them and laughed with them while reminding them that I expected the best from them."
To make ends meet, she started hiring out tents and even moved in with family to save money.
Second-year Rhodes University pharmacy student Athenkosi Mvulana said he would probably still be sitting at home in Chalumna if he had not met Stuurman.
"She was like an angel sent to help me. I don't think I would be studying on a Motsepe Foundation bursary if we had not met."
Mvulana said despite big dreams to study further, he thought he would not be able to do it because his family was poor and he did not know how to access information and apply for funding.
Living with his unemployed mother Nozuko, ailing grandmother and siblings was a daily grind as the family tried to survive on child grants and an old age pension.
"Before she came along, doing pharmacy at Rhodes University seemed like an impossible dream.
"My life changed the day we met and I will never let her down."
Mabizela praised Stuurman, who is a Rhodes graduate herself, for giving up a high-paying job to mentor young people from the rural village she grew up in.
"We are grateful for her confidence in her alma mater to provide quality education to the students she has mentored and assisted.
"We look forward to working more closely with her as we strive to ensure that academically deserving pupils in the Eastern Cape are able to access quality higher education at Rhodes." — davidm@dispatch.co.za
Caption for image: HELPING HAND: Good Samaritan Pumla Stuurman, centre, with some of the students she has helped get into Rhodes University Picture: SUPPLIED
Source: http://dispatch.newspaperdirect.com/epaper/showarticle.aspx?&article=6f0d5780-17c1-419b-af21-c8798866ca53&viewmode=2&page=3
Source: The Daily Dispatch
Please help us to raise funds so that we can give all our students a chance to access online teaching and learning. Covid-19 has disrupted our students' education. Don't let the digital divide put their future at risk. Visit www.ru.ac.za/rucoronavirusgateway to donate