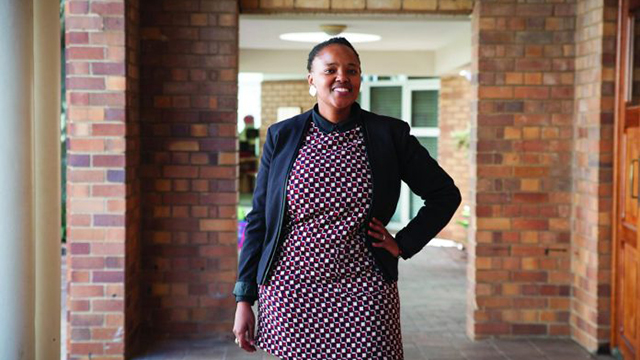 Athambile Masola "knows what poverty looks like" – the SSP Alum has taken her academic background as a Scholar and Teacher, and opened an all-girl, low-fee private school, Molo Mhlaba, in Khayelitsha, to focus on STEM skills and coding.
Why tackle decolonisation at primary schools and focus on coding?
"There is decolonisation at universities, but not at schools – there is such a cognitive dissonance about this," she says. She founded Molo Mhlaba, together with social worker Rethabile Sonibare, with the help of The Thope Foundation. The bilingual school (isiXhosa and English) has a unique approach to learning, with an extended school day of nine-and-a-half hours, and is inspired by the Montessori approach to learning. The school currently has 35 children between the ages of three and six years, who learn about robotics and coding, with a strong maths and science focus.
"Some of our funders are Culture Care Kids First Foundation, Rotaract and Sage Foundation. For coding, we're using LEGO robotics and Kano computing, SCRATCH and HTML.35 kids," Athambile explains. Asked about funding, she replies, "We are not a for-profit company. We survive through donor funding. While we are low-fee, some of our parents can afford to pay. We also use the Fund-A-Scholar Approach".
How did her chequered background inspire her to become a teacher?
She was a Scholar sponsored by Friends of South African Schools (FOSAS) in the Eastern Cape, which later merged with SSP. "I had a chequered childhood – it was normal until I was seven years old. In Sub B, we moved to the suburbs, then my dad lost his job."
Clarendon High School for Girls in East London "wasn't perfect, but the teachers were really central to my development, especially when I was in high school. The experience made me realise the importance of teachers, as well as schools that build and develop their students. I think education is central to solving the many challenges we face; and the classroom allows me to talk to my students about the world – beyond the classroom – in a way that other professions don't allow for interaction with young people".
Athambile is a Mandela-Rhodes Scholar, who graduated with a Master's degree in Education. She has taught English in Claremont High School in Cape Town, and at SSP Partner School, St Mary's School for Girls, Waverley, in Johannesburg. She is currently working on a PhD on Pan-African writer, Noni Jabavu's memoirs, while working as a lecturer at the University of Pretoria's Education Faculty, training future teachers.
What are her plans for the future?
Her plans for her school are simple – "We want to expand – we will build on our vision, and are aiming for credibility". To get in touch with her to help sponsor a girl child in Khayalitsha, contact Athambile at athambile@gmail.com
For more information on Molo Mhlaba, visit: https://molomhlaba.org/
Source: http://ssp.org.za/ssp-alum-athambile-masola-clarendon-high-school-for-girls-2005-founds-a-school-in-cape-town/?fbclid=IwAR1VLRpOaQcspNgohP76EH4G2wjqr1ng5atjifSuUcV4nnm6405Tnf1M0Ag
Please help us to raise funds so that we can give all our students a chance to access online teaching and learning. Covid-19 has disrupted our students' education. Don't let the digital divide put their future at risk. Visit www.ru.ac.za/rucoronavirusgateway to donate