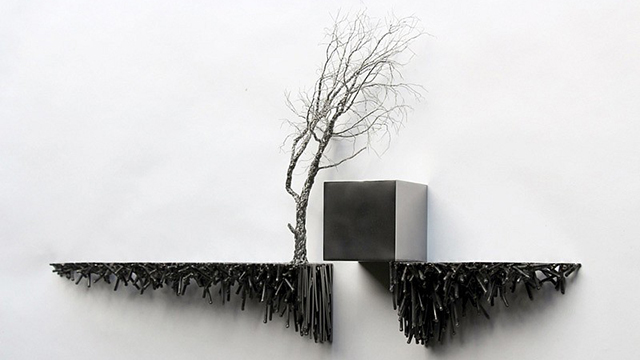 Currently living and working in Johannesburg Beth Diane was born in South African in 1985. In 2010, she completed, with distinction, her Masters of Fine Art at Rhodes University. Rhodes bought her BFA exhibition, Hibernation, for their permanent collection. Armstrong has partaken in several solo exhibitions, a number of group shows and projects locally and internationally, as well as being included is various private and public collections. Some recent highlighted commissions include the completion of a large permanent public artwork Flag in Oostvoorne, in the Netherlands, commissioned by the Kern Kunst Westvoorne Foundation and her most recent Page for National English Literary Museum, a 10-ton outdoor sculpture, in Grahamstown, South Africa. Armstrong was awarded the prestigious Standard Bank Young Artist Award 2017- Visual Arts in South Africa for 2017.
"One of the leading contemporary South African sculptors of her generation, Beth Diane Armstrong captures a mastery of the steel medium. Centered on contrasting variations of density and looseness Armstrong's use of sculpture explores the different expressions of these two terms in relation to scale, structure, materiality, space, representation and process.
Armstrong negotiates an unremitting pull between the desire to be entirely overwhelmed and subsumed by a sculpture and the drive to resolve and contain the idiosyncratic challenges posed by it. A central ambition which continues to inform Armstrong's process is the translation of fleeting, abstract experiences into the permanence of a physically demanding material such as steel.
Beginning as thought experiments, the works evolve according to a set of parameters which the artist prescribes. Armstrong develops these parameters on the level of underlying structures (calculations, measurements) and through the higher level realizations of the works as sculptural structures, maintaining a synchronous relationship to both aspects. These meticulous processes, her attention to detail and her astounding ability to effortlessly switch between intricate smaller works and imposing large-scale masses of steel reaffirms Armstrong ambitions to grapple with and understand the ways in which bodies experience space and translate this experience into structures, both perceptual and physical'.
Tim Leibbrandt 2017
Source: https://www.everard-read-capetown.co.za/artist/BETH%20DIANE_ARMSTRONG/works/851
Please help us to raise funds so that we can give all our students a chance to access online teaching and learning. Covid-19 has disrupted our students' education. Don't let the digital divide put their future at risk. Visit www.ru.ac.za/rucoronavirusgateway to donate