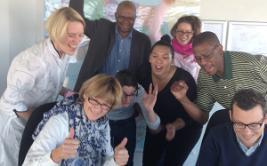 Journalists and academics are combining their forces to produce magic, said editor Caroline Southey (1976) after the introduction of The Conversation Africa news site in South Africa in early May. Content on the site comes from the "deep knowledge of academics and researchers" which is mixed "with the journalistic skills of editing and having a nose for a story".
Co-founder and editor-in-chief Andrew Jaspan explained that there was a huge difference between journalists and academics. "Journalists tend to want to tell you the bad news so bad weather outcomes – there is another flood, another hurricane – whereas the academic will try [to] understand those and give you some real context for changes in climate and also offer potential solutions."
The Conversation was set up in Australia in 2011, followed by the United Kingdom in 2013, and the US in 2014. The Africa version is its latest offering.
Africa's turn
Southey first heard of the site in late 2013 and thought it would be a good idea to have it on the continent because she felt academics were doing game-changing research. The site would be a perfect vehicle to share that knowledge with a wider audience. She approached two vice-chancellors, Saleem Badat, who was at Rhodes University at the time, and Adam Habib at the University of the Witwatersrand. Both men showed a lot of support and Southey began looking for a way to fund the project.
"The National Research Foundation came on board and then others started to show interest," she explained. "Alexandra Storey, the general manager of The Conversation Africa, and I worked on the project from June last year and by December we had raised enough money to put a team of editors together."
The difference between the Africa site and the others was that "we are commissioning our own stories from academics about issues affecting Africa", Southey said. The Conversation Africa will still maintain the high quality of copy on the other versions of the site, and has also learned much from them. "The biggest lesson we have learned from the other sites is that it is possible to produce fantastic explanatory journalism.
"We are also emulating the way they have made sure their stories are read by a diverse set of readers," Southey explained. "We are doing this through active engagement with media houses and an intensive social media strategy, which is being run by Tanya Pampalone."
Content on The Conversation Africa can be republished, within guidelines, on other websites and in print media. Southey called it an incredible feature because it helped to reach a wide reader base. "Republishing of material on other sites has meant that The Conversation is reaching 22 million readers a month."
Interest in stories it had published had been overwhelming, she added. "We have been going for only a week and already our stories are being republished by online sites and by newspapers." But the biggest challenge is creating and growing the countrywide network of academics, and having a regular flow of information and articles.
"Our job as journalists is to use our skills to make the stories [from academics] interesting and appealing." This was done by trying to find the most interesting angle from university research and editing it so that it was easy for the user to read.
"I am confident we can do this because we have a fantastic team of editors – Jabulani Sikhakhane, Thabo Leshilo, Natasha Joseph (2000), Candice Bailey, Ozayr Patel and Edwin Naidu."
In the next five years, she would like to see editorial teams in East and West Africa to get readers from across the continent. "And I hope that we have succeeded in putting game-changing research and ideas and knowledge into the public domain."
The Conversation is a collaboration between editors and academics to provide informed news analysis and commentary that's free to read and republish.
Source: https://theconversation.com/africa
Please help us to raise funds so that we can give all our students a chance to access online teaching and learning. Covid-19 has disrupted our students' education. Don't let the digital divide put their future at risk. Visit www.ru.ac.za/rucoronavirusgateway to donate