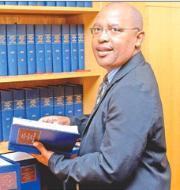 New head of AFU in Eastern Cape inspired by apartheid injustices to study for career in law.
Chris Ndzengu has gone from being a poor young boy forcibly removed from his parents' land during the apartheid era to the new head of the Asset Forfeiture Unit (AFU) in the Eastern Cape.
Still he strives to improve himself and, at the age of 46 and with several degrees to his name, he is studying towards his LLD, focussing on the Prevention of Crime Act (POCA).
Ndzengu and his family - parents George and Sarah and four younger siblings - were forced to leave their land in the Tsitsikamma region of the Eastern Cape when he was five. They moved to Keiskammahoek near King William's Town.
Back then, Ndzengu's parents, who have since died, worked in a furniture shop and a university qualification for their eldest was a pipe dream.
"After I matriculated in 1986, at AmaNtinde High School in King William's Town, my parents said to me: 'We have played our part boy, go out and get a job.' I remember how my teachers used to tell me I had the potential - this kept me going."
He persevered and, with a R3000 grant, enrolled at Rhodes University to study towards his BA LLB. This amount was not enough to cover all his studies and, assisted by a Methodist church minister whose wife was a Rhodes lecturer, Ndzengu gained access to more funding.
"I was overjoyed to be a recipient of the United States Fellowship Scholarship, which covered my studies for the next three years on condition I passed the course. I was inspired to study and learn more about laws that had removed citizens from their land," Ndzengu said.
It was his responsibility as the firstborn to look after his family and he used some of the money during his second and third years to buy his parents a lounge suite and to fit out their kitchen.
"This thing of study did not sink into their minds. Everyone was convinced I was working at that stage. But when I graduated I took my mother to witness the ceremony in Grahamstown. She only distinguished between studies and working when I bought my first car and a house," he said.
Ndzengu followed up his BA LLB with an LLM focusing on the POCA at Nelson Mandela Metropolitan University and is now studying towards his LLD (Doctor of Laws). He started his working career as an attorney in Grahamstown and in 2003 he joined the AFU - a unit within the National Prosecution Authority - as a senior state advocate. He has slowly worked his way through the ranks to his current position as regional head.
"I manage the process of invoking the provisions of POCA via our courts at the Port Elizabeth and East London office to make sure that crime does not pay, by dislodging illegally gained benefits from the hands of criminals, and that instrumentalities used in the perpetration of crime are removed from public circulation."
Ndzengu, who is married to school teacher Lolla with whom he has two children, urged citizens - especially those in government - to report corruption. He said the anti-corruption task team (ACTT) had been established to deal with this problem.
"But I would like to see it making real inroads in all the provinces, especially the Eastern Cape, where one sees poverty and administrative incapacity instead of products of the billions the state has invested here," he said.
"I would like to see an active role played by prosecutors and AFU staff in all the ACTT provincial task teams. Such initiatives should be afforded all the resources they need."
Written by: Hendrick Mphande
Picture credit: The Herald
This article was published on The Herald.
Source: The Herald
Please help us to raise funds so that we can give all our students a chance to access online teaching and learning. Covid-19 has disrupted our students' education. Don't let the digital divide put their future at risk. Visit www.ru.ac.za/rucoronavirusgateway to donate