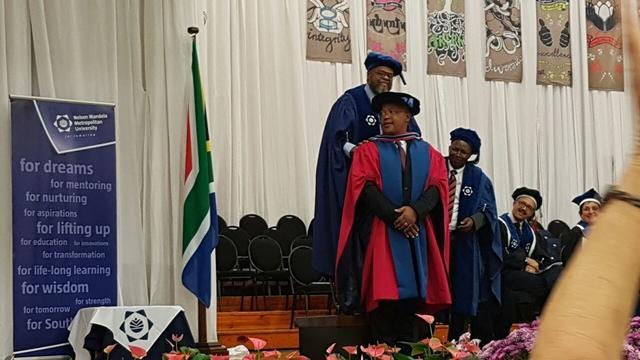 Regional Head of the Asset Forfeiture Unit, EC, National Prosecuting Authority, Old Rhodian, Chris Ndzenga, received his LLD from NMMU.
The Thesis Title is: "A Comparative Analysis of Aspect of Criminal and Civil Forfeitures: Suggestions for SA Asset Forfeiture Law Reform."
The study is in the legal field of public law in general and Asset Forfeiture (AF) Law in particular. This is Chris's field of work.
He embarked on a comparative study on AF regimes of SA, Canada and New Zealand. He compared SA, as a developing country with the regimes of Canada and New Zealand, as developed countries. AF regimes target the economic and property base of criminality; and they assist in reducing or eliminating it, sending out the message that crime does not pay.
The research centred around the reasons for the introduction of AF in the three countries; how SA, in comparison with the other two jurisdictions, has dealt with the aspects of disclosure in ex parte applications; the recovery of criminal benefit and the assessment thereof; living, legal, business and debt expenses; instrumentality and proportionality analysis; and how AF affects the vulnerable i.e. children, spouses, sick, the elderly etc.
Chris concluded that SA AF compared favourably with the other jurisdictions. He made practical proposals regarding possible changes to the SA AF regime by amending current SA legislation. Furthermore, he drafted a proposed Amendment Bill and Regulations to this effect, as part of his recommendations. The work provides a significant contribution to the improvement and effective implementation of the SA AF regime.
"This is a humbling and momentous milestone for me. I am grateful to the Lord, late parents, my family and to all those who are academically wired, who encouraged and supported me. In particular, I give thanks to the NPA for financing the research and NMU for the academic guidance. I will continue contributing to academic publications and assist the Tsitsikama Mfengus (where I was born) with reclaiming their land from the present government since 1996. "
Source: Alumni Relations
Please help us to raise funds so that we can give all our students a chance to access online teaching and learning. Covid-19 has disrupted our students' education. Don't let the digital divide put their future at risk. Visit www.ru.ac.za/rucoronavirusgateway to donate