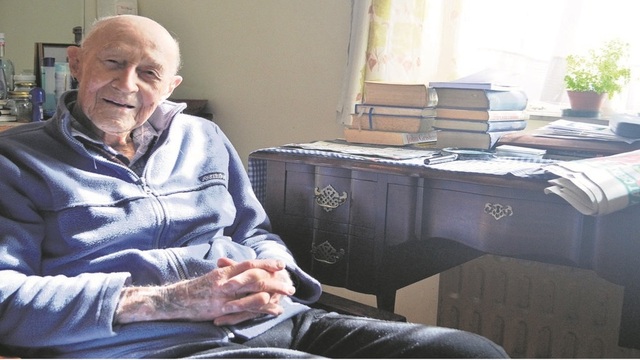 Edgar "Chappie" Chaplin has seen the world and swum in lakes and seas across the globe. He remembers the days they had to travel by ox-wagon. He drove his own car until the age of 99 years. And now, at the age of 100, he has a clear and fond memory of "an amazing century to have lived through."
"I've had a good life. My wife was an eternal optimist, she always said forget the bad and remember the good. And that's the way I live, I prefer to be positive. And I am quite okay," said Edgar Chaplin, a resident of Rosa Munch House.
He stayed in Uitenhage for most of his life whilst being an accountant at Firestone (which he joined in 1938). Chaplin was an active member of the community and also of various sports clubs. He played bowls up to the age of 98. His wife Audrey was a maths teacher at Riebeek College.
He originates from the village of Ngqeleni, Transkei, where he was born on 4th October 1917. He went to school in Mthatha and obtained his BCom degree at Rhodes University in 1937.
"We really have a magnificent country," he said.
Travelling and enjoying the scenery has been part of his life since his childhood days. He remembers travelling by ox-wagon, especially the trips they took to Lwandile at the coast, where they would stay for several weeks during holidays.
"It was 30 miles away and normally would take us 36 hours to get there by ox-wagon. It was about 12 miles to the nearest forest where we normally stayed over and let the oxen graze. Then we would leave early the next morning and by the afternoon we would reach the coast.
"Sometimes when it was a moonlit night my father would let us travel another 5 miles. That always was a great adventure and beautiful with the full moon lighting up the area.
"I remember the first car in Ngqeleni village. It was a 1919 Overlander owned by an attorney. My father so often had to pull it with two oxen as it could not handle the rough terrain.
"Then the doctor bought a Model T Ford of which the fuel tank had to be higher than the engine. So whenever they had to drive up a steep hill, they had to do it in reverse otherwise the fuel could not flow into the engine."
Chaplin and his family loved to travel. He said they had been through every mountain pass in South Africa.
There have been immense changes in the world over the past 100 years.
"The biggest change to me is technology. I can't keep up with it. I do have a cellphone, but I remember the first telephones and the excitement about them. As kids we laughed and said imagine to one day phone and be able to see the person you speak to - and now it is like that."
His message in living a decent well balanced life is to work hard and to keep your body and mind active.
"Get out and get around, if you don't use it you will lose it. And of course, read as much as you can.
"My wife's grandfather said that as long as you are educated you need never to be lonely. I am never lonely, I pick up any book, read and am quite happy.
"I still try to be active and walk every day, but I can do with a new pair of legs," said Chaplin.
Chaplin has two children, his son Robin, is a professor in nuclear engineering at a university in Ontario, Canada and his daughter Sherril, an educator in Matatiele.
Source: http://www.news24.com/SouthAfrica/Local/UD-News/it-has-been-an-amazing-century-20171004
Heilie Combrinck:
Source: Alumni Relations
Please help us to raise funds so that we can give all our students a chance to access online teaching and learning. Covid-19 has disrupted our students' education. Don't let the digital divide put their future at risk. Visit www.ru.ac.za/rucoronavirusgateway to donate