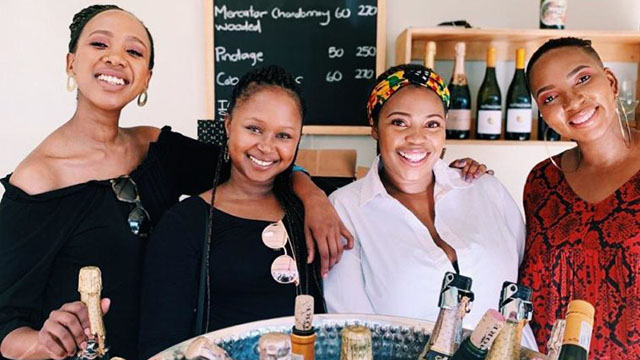 Hlumelo Siphe Williams and Mbali Ndaba
Wine-ish is a dynamic group of 4 black women occupying the world of wine, one glass at a time. Palesa Mapheelle, Obakeng Monamodi from UCT and Buhlebezwe Ndaba and Hlumelo Williams, from Rhodes University, came together as friends on a casual Wednesday, also known as 'Winesday', to share their goals, dreams and everyday experiences.
156 Winesday's later, they decided to form Wine-ish; a platform that has become a hub for all things wine and business, soon to disrupt the industry.
Wine-ish takes you on a visual journey of South Africa's rich world of wine and related experiences through the lens of young, vibrant women of color.
The name choice is quite unique and has an interesting meaning behind it. Not only does the team focus on the technical understanding of viniculture and "Wine", but the "Ish" in the name is also just as important to them; representing the side of them that is simply 4 young women navigating life together with all of its ups and downs.
Wine-ish is deeply rooted in and propelled by the connection the four of them share as friends, before anything else.
As a business, Wine-ish aims to debunk wine and the drinking of it, all while making it more accessible to an emerging market who want to learn and experience more about it.
They don't want to be seen as experts, but as people who are constantly learning and challenging the norms of the industry.
he zestful, youthful and vibrant energy of the team has always been what differentiates them from the firm and rigid industry they're trying to create a space in, and it has been nothing but refreshing.
Infiltrating the industry has had its challenges but seeing the growth of people of colour creating their own brands and wineries has left the team hopeful in making sure they will transform and create a positive disruption for themselves and in partnership with like-minded, forward-thinking collaborators.
For more on Wine-ish, their incredible brand, and upcoming projects; follow them on Instagram and Twitter.
Source: https://sheleadsafrica.org/meet-the-four-black-women-in-the-wine-industry-wine-ish/