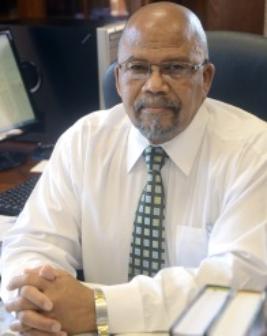 Judge Lex Mpati (1979)
Lex Mpati beats adversity to lead the second highest court in the country
Seeing scores of people unable to defend themselves and being needlessly imprisoned motivated Judge Lex Mpati to study law in Grahamstown at the age of 30. This set off a course of events that would see the young Mpati go from petrol attendant, furniture sales clerk and barman to one of South Africa's most respected legal minds, and president of South Africa's second highest court. But he nearly gave up on his legal studies at one point. The astute judge, devoted husband, loving father and keen rugby supporter spoke to Weekend Post from his Grahamstown home about his remarkable journey to the Supreme Court of Appeal (SCA). Although Mpati, 64, was born in Durban, he was raised in the Eastern Cape, a province to which he maintains close ties- he still keeps a home in the city of Saints and supports the EP Kings in domestic contests. "I grew up here. Although I was born in Durban, I came here as a baby- it is the only home I know. I participated in sports here and this is where I climbed up in the world," Mpati said. However there was a brief moment during which Mpati thought he had performed poorly in an exam. "I came home that day frustrated and told my wife, Mereille, 'I'm leaving all of this if I have failed.' Mereille responded that I would do no such thing and encouraged me not to throw in the towel. "Fortunately, I did not fail the paper," he says. When the Chief Justice, the late Ismail Mohamed, invited Mpati to be an acting judge at the SCA in the late 1990s, Mpati was not only humbled but also stunned. "I had a mix of emotions because it was the highest court before the founding of the Constitutional Court. I thought to myself, 'Will I be up for the task?' Also, the SCA had many judges, both living and deceased, whom I held in high regard," he said. One afternoon in 2000, Mpati was on a drive from Port Elizabeth to Grahamstown when his phone rang. It was the Judicial Service Commission (JSC), informing him he had been recommended for appointment to the court. "When I began studying, I never set out to be a judge. My sole aim was to help prevent people from being imprisoned needlessly." Mpati became the court's first permanent black appointee and has been serving as its president since 2008. Exactly a year ago, Mpati received another surprising call that shook him to the core, in a good way. His alma mater, Rhodes University, where it all began, wanted him to be its chancellor. "I was surprised when the vice-chancellor [Dr Saleem Badat] gave me a call. I was at Cape Town International Airport and on my way to a hotel. "I was so shocked that I asked the vice-chancellor to give me time to think about taking up the position. "I had to weigh up how I would balance my duties at the SCA and as chancellor. Again, I thought, 'Will I be able to do this?' For example, I have to be in Cape Town for JSC interviews and graduation begins in the same week." There have been many positive changes in South Africa's social landscape since the dawn of democracy, one of which has been the transformation of the bench, said Mpati. "When we attained democracy, there were only two people of colour on the bench. After two decades of democracy, the bench is occupied by South Africans of all creeds and shades".
Mpati encourages tenacity in his children
Supreme Court of Appeal (SCA) president Judge Lex Mpati has presided over many high-profile cases in a legal career spanning almost three decades. Most recently, the judge heard the appeal of convicted drug mule Tessa Beetge's recruiters Sheryl Cwele, the ex-wife of State Security Minister Siyabonga Cwele, and Frank Nabolisa. In 2012, the pair appealed their conviction for drug dealing at the SCA. However, the court dismissed their appeal and upped their sentence from 12 years to 20 years. At the time, the court ruled: "The effects of their [Cwele and Nabolisa] deeds on the community at large far outweigh their personal circumstances and justify a long term of imprisonment." Last year, the Constitutional Court reduced the pair's sentence to 12 years. Meanwhile, Mpati's four children have also carved out successful careers for themselves in their chosen fields. His two daughters, Dawn, 38, and Demi-Lee, 21, have followed in their father's footsteps, while his sons, Lyle, 40, and Ludi, 26, are in mechanical engineering and IT respectively. "Mereille and I never imposed our will on them in terms of what they had to do. All we asked of them was to use the opportunities that many do not have access to," Mpati said. "We've always told them that we will not be around forever." Dawn is a particular standout as she has a high-flying career at the World Bank in Washington DC. In 2010, she was admitted to the New York Bar of Attorneys.
By: Xolisa Phillip
Source: Weekend Post (Sunrise)
Source: Weekend Post (Sunrise)
Please help us to raise funds so that we can give all our students a chance to access online teaching and learning. Covid-19 has disrupted our students' education. Don't let the digital divide put their future at risk. Visit www.ru.ac.za/rucoronavirusgateway to donate