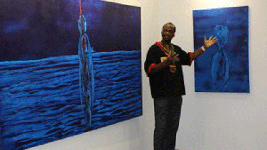 A variety of emotions and personal experiences were all translated into art at the 2016 Cape Town Art Fair last month. Featuring a rich array of mediums including installation, video, drawing, sculpture, painting and photography, fair gave art enthusiasts, investors and collectors the opportunity to experience the works local and international artists from around the continent.
A special addition to this year's Cape Town Art Fair was the introduction of the 'Consuming Us' project consisting of the work of eight emerging artists. According to curators of the project, Azu Nwagbogu and Ruth Simbao, the project aimed to open up ideas about consumption by playfully, yet seriously, considering the ways in which tomorrow's artists cannot and should not be pinned down by today's ideas. In addition, the project contemplates the ways in which human beings are consumed by so many aspects of life.
The 'Consuming Us' project took centre stage at the fair and provided a platform for the eight artists to artistically express themselves about issues and concerns that consume them.
Among the eight talented artists participating was Rhodes student, Zimbabwean-born, Mathias Chirombo, who told BBQ in an exclusive interview that his spiritual and cultural background as an African inspires his work, which he says is not market-driven, but comes from his heart and soul.
The young Chirombo, whose style varies between realistic and abstract painting, showcased his work, which was inspired by the loss of his father. It explores the crossing over of a person when they die---from living to dead, and from human to a spiritual form. His preferred medium is a mixture of oil and other paints. "I mix the oils with other mediums to change their consistency. I often also experiment with making my own 'ink' by cooking and burning butternuts and sweet potatoes."
But it was his love for sport, cricket in particular, that afforded Chirombo the opportunity to follow his dream and passion to study art, as it was due to his fast-bowling skills, playing competitive cricket as a youngster, that he was offered a scholarship to study at Rhodes University.
An innovative soul
Chirombo says he has always been very determined to become a full-time artist, and being an innovative soul, along the way, he generated his own opportunities. He organised exhibitions, and says he has never been afraid to fail or to be be criticised.
"Being invited to participate in this special project for the 2016 Cape Town Art Fair alongside Gallery Noko was my biggest break as an artist," he says.
But he accolades the first person that had faith in his potential---the late Peter Roebuck from the LBW Trust in Australia, who paid out of his own pocket for Chirombo's first year of studies. Rhodes University followed suit with a tuition scholarship until he completed his bachelor's degree. He is currently completing his Masters Degree in Anthropology.
In reciprocation, Chirombo has, since 2012 donated two paintings per year to the Rhodes University Alumni office. The paintings are auctioned and raises between R16 000 and R30 000 per year towards a scholarship that assists students struggling to make it to university.
So what inspired Chirombo to pursue a career in art? He's quick in answering: "The cartoon rabbits that my father used to draw for us kids inspired me and my passion for art flourished at school when I started to experiment with different painting techniques while painting my parent's kitchen as a 16-year-old. My mum and dad never worried about the mess and always allowed me the space to continue to explore my artistic passions. Through that freedom I realised that art was what I loved and wanted to do so much."
Art in business
With regard to the importance of art in business, he says art offers a large range of opportunities to businesses. The returns can only be fully realised in the long-term. Short-term returns come second. The trick is to choose the artists or art that is self-sustainable, reliable, efficient, have great growth potential, yield great social capital for your sector and yield a good financial return on your investment, he says.
"For example if a company is going to invest big money in an artist, it needs to be sure that the artist it is investing in is not just a fly-by-night success that will varnishes off the radar. I would invest more in artists whose careers are just starting to get off the ground because in the long-term, the financial return is much higher and the company can get a bigger collection at a lower cost. Once you have secured a very good collection, you need to expose your collection at the right time and the right place. You have to use your artist to market your company and the artist becomes one of your brand ambassadors.
"Through these initiatives, businesses can get tax breaks for their art investments. Depending on the type of artists you invest in, you can resell your works after 10 to 50 years from. You can invest privately by purchasing work for your children or grandchildren to inherit; this is a smart way of investing and many business people have been doing it for a very long time. I suggest you speak to your tax accountant to have a closer look into these aspects," Chirombo told BBQ's Anele Malahla.
The biggest challenge Chirombo, like many other artists in the country, has always been facing in his career is financial constraints and time. He says: "Art requires a lot of time to create, with no guaranteed financial returns. To fund my art, I have had to spend so much time on various business ventures to make ends meet in order to live every month, buy materials and pay for exhibition spaces and marketing."
With regard to transformation in art; the involvement of private and public sector to promote black art and challenges faced by black artists in South Africa, he says: "There are many avenues through which people create art. Some artists are informal, creating crafts and art to sell to tourists or on the street during festivals; there are students studying art at university; there are art colleges for school children and NGOs set up to teach and promote art in communities.
Black art
"The term 'black art' is a very broad statement involving all these and more avenues of art. Art is not offered as a subject in most schools, particularly at previously disadvantaged schools. It is as children that most people develop their passion for making art, as well as develop the necessary skills to express themselves in various mediums.
"Without government support in the education sector, art as a subject will not be a priority and will therefore not be offered due to budget constraints. I mention this because this is where the foundation is laid for young people to learn to appreciate art.
"People would be encouraged to study and make art if it was a lucrative and secured profession. Government could provide better tax rebates for private companies who support art education, and also buy art from local artists. Artists could be encouraged financially to participate in outreach and education programs in underprivileged communities to promote artists and art as an industry within those communities."
Chirombo says it's common knowledge that being an artist is not the most lucrative or employable profession, and artists from poor backgrounds face enormous financial struggles because art is also an expensive profession. Access to materials, skills, tools, markets, exhibition spaces and space to experiment without worrying about selling, are all money consuming luxuries that can inhibit artists from pursuing and establishing a career as a professional artist.
His advice to struggling up and coming artists is to be true to themselves, and not be market driven. "Be independent and generate your own opportunities and sources of revenue. Accept constructive criticism and learn from all the positive and negative experiences and interactions along the way."
Source: http://www.bbqonline.co.za/articles/art-17512.html
Source: Alumni Relations
Please help us to raise funds so that we can give all our students a chance to access online teaching and learning. Covid-19 has disrupted our students' education. Don't let the digital divide put their future at risk. Visit www.ru.ac.za/rucoronavirusgateway to donate