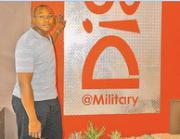 A pair of former Rhodes University students are using their personal experience of living in student residences - and their strong business partnership - to change the face of student living in Port Elizabeth.
The dynamic duo are buying up old hotels and office blocks to create digs that cater to students' specific needs. East London business partners Noel Nyemba, 38, and Siviwe Kwatsha, 34, are not only providing PE students with well-furnished rooms and computer labs in state-of-the-art, off-campus residences - they are also on a mission to "wake up" the CBD with space for nightlife spots.
Speaking to Weekend Post this week, Nyemba said he and Kwatsha met in the 1990s as Rhodes residence students. Although the two had originally not hit it off, they teamed up a few years later, became successful business partners and firm friends, and have not looked back since.
"We were quite different at Rhodes - I thought Siviwe was a bit stuck-up and a real computer geek," joked Nyemba. But it was this geekiness that Nyemba sought out after starting his IT company, Mars Technologies, in East London in 2000. Four years later, after being announced as one of the top 300 new companies in South Africa, the duo sold their "very valuable" IT company and began buying up investment properties in Nelson Mandela Bay.
With a healthy property portfolio, including the old Trust Bank and Absa buildings, the friends turned their entrepreneurial eye in the direction of student digs. "We got the idea from Carl Kossatz, who turned a few blocks of flats in East London into student accommodation for Walter Sisulu University.
"We identified a serious shortage of student accommodation nationwide and decided to look for locations in Port Elizabeth that were ideally suited to provide it," Nyemba said. The pair bought the old Campanile Hotel and a nearby office block in February last year and turned them into Digs@Campanile and Digs@Traduna respectively.
They then transformed the Markham Hotel into Digs@Military and a townhouse complex near the stadium into Digs@Klesal. Having experienced residence life themselves, the pair knew they wanted to offer the 600 young people they house an even better living experience.
"There was always a major problem in res when some of the guys wanted to watch soccer and others wanted to watch rugby, so we ensured there were two TV lounges. We also found walking to a computer lab at night was inconvenient so our digs have in-house computer labs as well as WiFi in the rooms," Nyemba said.
"We also have a couple of ideas in the pipeline about creating space for restaurant owners and tapping into ... reviving the area where students live in PE, because at night it is completely dead. We will try to wake it up."
Photo Caption: OFF-CAMPUS RESIDENCE: Student digs' developer Noel Nyemba, 38, at the Digs@Military
Photograph: Eugene Coetzee
Story by Barbara Hollands
Source: Weekend Post
Source: Weekend Post
Please help us to raise funds so that we can give all our students a chance to access online teaching and learning. Covid-19 has disrupted our students' education. Don't let the digital divide put their future at risk. Visit www.ru.ac.za/rucoronavirusgateway to donate