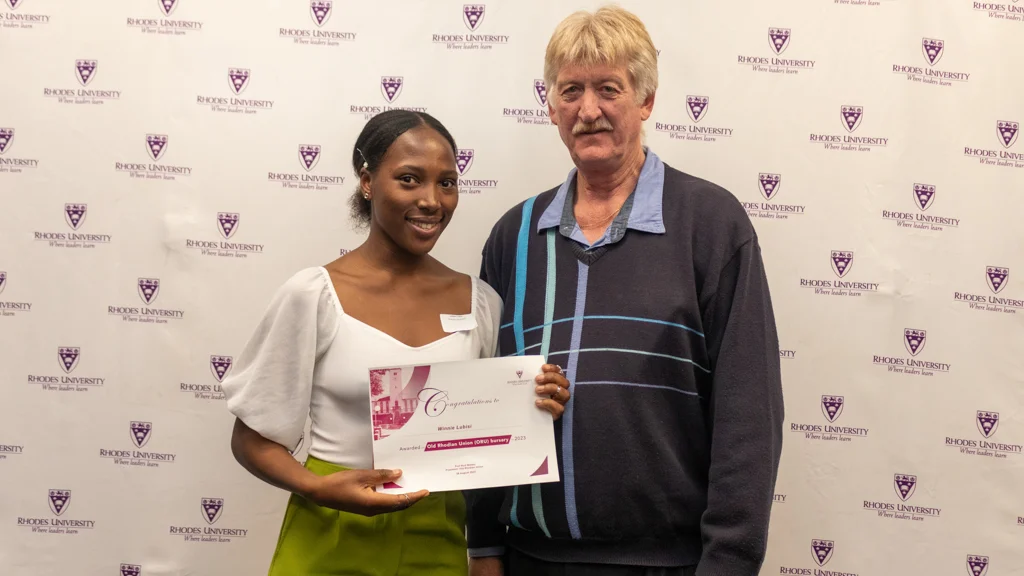 By Carmen Visser
Founded in 1911 by Sir George Cory and Professor Cullen Bowles, the Old Rhodian Union (ORU) administers bursaries for children of Old Rhodians and current University staff members. This year, the Union granted 31 bursaries to the value of R325 000.
A Cocktail, which was attended by the students and their guardians, was held on 28 August 2023 to celebrate the 2023 beneficiaries and the President of the ORU, Professor Rod Walker welcomed the attendees. He explained how the Union aims to sustainably provide bursaries to Rhodes University students to ensure that present and future students are financially assisted in their studies.
In 2000, the ORU bursaries to the value of R80 000 were granted. In 2023, 31 bursaries valued at R325 000 were granted. Professor Walker emphasised that the awards are based on academic performance as well as financial need.
He described how the MySchool bursaries are awarded specifically to the students who are studying Education, in line with the objectives of the MySchool programme. Furthermore, he encouraged everyone to get a MySchool card to help raise funds for the ORU. Rhodes University's Vice-Chancellor, Professor Sizwe Mabizela, echoed his sentiments: "It does not cost you anything more to use a MySchool card. You were already making that Woolworths purchase, but you can help the Old Rhodian Union if you swipe your MySchool card."
Professor Mabizela also said, "We are all beneficiaries from those who have contributed to the Union. The responsibility to help is one for all of us to carry."
He continued to explain how there will be a competition between graduates from all years during Rhodes University's 120th birthday in 2024. The alumni will compete to see which year can raise the most funds for the ORU. Moreover, the Vice-Chancellor stressed the local and global responsibility that Rhodes University, its staff, and students carry.
He pointed out the importance of generating quality research that contributes to international markets as well as helping our surrounding areas. Professor Mabizela thanked the 2023 Student Representative Council and called them "the best team of leaders Rhodes University has had for a long time." Finally, the Vice-Chancellor closed with a reference from Archbishop Emeritus Desmond Tutu, "South Africa is a scintillating success waiting to happen. Let's all do our part to make society and our world better."
The ORU bursaries have and continue to assist a number of students financially throughout their studies both at undergraduate and postgraduate level. One of the 2023 recipients, Kyra Chikuwha, explained how her guardian was retrenched during the COVID-19 lockdown and, as a result, her outstanding fees to Rhodes University began piling up. She admitted that her parental figure's emotional motivation letter must have convinced the committee to grant her the bursary.
Now a third-year student at Rhodes University, she said her guardian has always been a fantastic role model and laid a foundation where reading and learning were always encouraged. Unsurprisingly, the student from Johannesburg wishes to one day become a lecturer and start her own publishing company. She is grateful to the Old Rhodian Union for helping her throughout her studies.