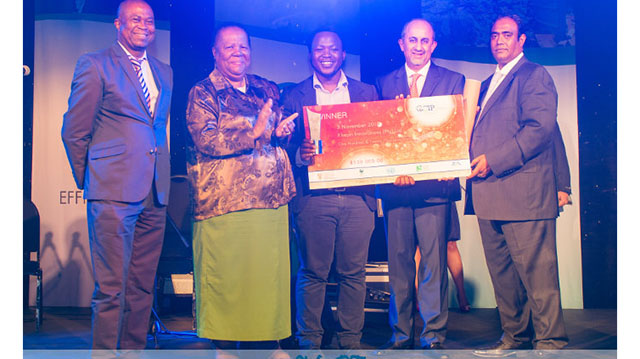 A grand prize of R120,000 and an all-expenses-paid trip to Silicon Valley in the US has been awarded to Rhodes University graduate Bandile Dlabantu whose Mobile Fly Farm was announced as the winning innovation in the 2017 Global Cleantech Innovation Programme in South Africa (GCIP-SA).
Mobile Fly Farms use black soldier fly larvae to convert organic waste into animal feed. It is aimed at emerging farmers to help them to organically improve their yields. Dlabantu will now be heading to the innovation capital of the world to compete against the top performers in other GCIP programmes from across the globe at the Cleantech Open Global Forum in February 2018.
"It is a great honour to be recognised by such an esteemed panel. Thank you to the GCIP-SA for believing in me and helping to make my dreams a reality," Dlabantu said.
Science and Technology Minister Naledi Pandor presented the grand prize to Dlabantu on 3 November at a gala event in Pretoria. She said that the GCIP-SA's highly successful programmatic approach accelerates commercial opportunities and creates platforms for participants to promote their product offerings and raise funding.
"Through its ongoing support of entrepreneurs and innovation in the clean technology space, the Programme will contribute to strengthening the resilience of the complex South African entrepreneurial economy to operate within the global market, and will have measurable positive economic and social benefits for the country."

Read more: http://mype.co.za/new/pe-born-innovator-bandile-dlabantu-receives-r120-000-grand-prize-for/95773/2017/11#ixzz4yPBMexdt
Source: Read more: http://mype.co.za/new/pe-born-innovator-bandile-dlabantu-receives-r120-000-grand-prize-for/95773/2017/11#ixzz4yPBMexdt
Please help us to raise funds so that we can give all our students a chance to access online teaching and learning. Covid-19 has disrupted our students' education. Don't let the digital divide put their future at risk. Visit www.ru.ac.za/rucoronavirusgateway to donate