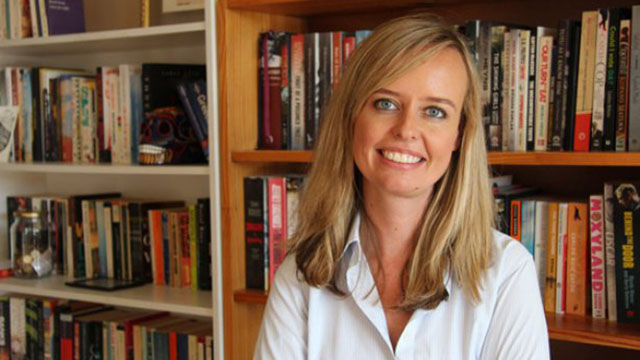 10 Questions For: Rebecca Davis
Razor-sharp and politically and socially poignant, Rebecca Davis is one of the country's favourite writers and currently shares her pithy insights on the Daily Maverick. She's just published her first book – a collection of humorous essays called Best White (And Other Anxious Delusions), which tackles all of life's trickiest issues with the author's usual hilarity, grace and shrewdness.
1. How would you describe what you do for a living?
I look at things and then try to write about them.
2. What is your most vivid childhood memory?
Being constantly shepherded out of school on to the road to wave at the passing cavalcade of the Malawian President, Hastings Kamuzu Banda. This is why I am no good at Maths but I can wave really well.
3. If you could invite any three people, dead or alive, for dinner, who would they be and why?
I only need two, namely Tina Fey and Amy Poehler.
4. If you ever found yourself auditioning for a music reality TV show, what song would you sing and why?
It would definitely be Bonnie Tyler's 'Total Eclipse Of The Heart' because I frequently move people to tears with it at karaoke evenings and also I do actions
5. How would you complete this sentence? The South African cabinet should include a Minister of ____.
Men. There's all this chitchat about women and their special needs, but someone needs to talk about what's up with the men in this country.
6. What would you say is the biggest misconception about you?
That I am constantly on Twitter. In reality, I have only tweeted 26 000 times in my entire life.
7. What is your (honest) opinion of Cape Town?
It is almost exactly like that Neill Blomkamp sci-fi flick Elysium, where the wealthy live in a space station and the poor scrabble for survival on blighted Earth.
8. What's the greatest fear you've had to overcome to get where you are today?
I am constantly afraid that I am going to get something catastrophically wrong in my writing and then I will be unmasked as a charlatan. Because I have now committed this fear to words, it will almost certainly happen.
9. What's the one thing you'd like to achieve before you die?
I would like to maintain my greatest achievement to date, which is that I do not have a single cavity or filling in my teeth.
10. Which well- known South African personality would you , without a doubt, be able to beat in a street fight and why?
After watching Celebrity Masterchef South Africa I am quietly confident that I'd be able to beat singer Patricia Lewis, because she'd be crying the whole time.
Photograph of Rebecca by: Jeanine Cameron
---
ABOUT #CapeTownMag10Q:
CapeTownMagazine.com's 10 Questions project gets to know some of the Mother City's most creative and inspiring people. From television personalities and musicians to politicians and entrepreneurs, we find out more about well-known and up-and-coming Capetonians. You can follow #CapeTownMag10Q on Twitter and Facebook to track recent interviews or read more here about our other awesome 10 Questions candidates.
Source: https://www.capetownmagazine.com/10-questions/10-questions-for-rebecca-davis/201_22_19710
Please help us to raise funds so that we can give all our students a chance to access online teaching and learning. Covid-19 has disrupted our students' education. Don't let the digital divide put their future at risk. Visit www.ru.ac.za/rucoronavirusgateway to donate